Medical device manufacturers are facing a shrinking number of buyers and an increasingly sophisticated healthcare world, in which Twitter and Facebook may spread word of their products more swiftly than any marketing campaign.
Those were just 2 points discussed by a panel at the LifeScience Alley 2014 conference yesterday in Minneapolis. The panel, "How Do You Hit a Moving Target? Sales & Marketing in an ACA World," was 1 of a half-dozen such discussions on medtech issues at the conference.
The panel began with a presentation from Chas McKhann, director of life sciences strategy & operations at Monitor Deloitte. McKhann, who served as the moderator for the discussion, used hospital economic data to paint a picture of an "unsustainable" status quo. The most profitable business for hospitals and health systems, he noted, is commercial business, but that part of the market is shrinking; the share of patients on Medicare and Medicaid, programs that do pay as well as private insurance, continues to grow.
"It's a scary trend for most hospitals," McKhann said. The changes brought on by the ACA, including Medicare penalties for readmissions, have hospitals concerned about their slim profit margins. As a result of reforms, the U.S. health care delivery system is moving from a volume focus to a value focus, he said.
Shrinking budgets for health delivery systems is bad news for device manufacturers, McKhann noted.
"Yes, medical devices are a very small part of the overall spend," he said. "But they are a visible line item. And it's a lot easier to focus on a visible line item than to do all the hard work it's going to take for institutions to become more efficient."
At the same time, McKhann said, patients are experimenting with a flood of new technologies that may or may not prove valuable to clinicians.
"Doctors don't care about Fitbit data," he said, noting simultaneous, conflicting physician reluctance and consumer enthusiasm about the new tools.
Given the many stresses on providers, several panel members talked about the need to simplify and re-focus the approach to marketing devices.
"We looked at a market and 4 companies in that space were saying, 'We're innovating,' and what they meant was, 'We're making new stuff,'" said Clay Wilemon, CEO and chief strategy officer of DevicePharm. What providers want, he added, is solutions that will help them do their daily work, not simply new gadgets.
John Brownlee, CEO of vidscrip.com, said his experience has shown him that busy clinicians want to see immediate value from new tools and devices.
"Everyone in this room knows that healthcare workflow is really hard to change," said Brownlee. "It's really hard to get a surgeon or a busy nurse to do anything different than what they normally do. All these patient engagement tools have to be incredibly simple. Doctors are so busy, they'll toss it if they don't see an immediate result."
Health systems also need to see what's in it for them, said Jim Mayberry, vice president of Global Health Systems at Acelity. Mayberry described an "epiphany" he had at a meeting with a health system's management in which he launched enthusiastically into his slide show, when the potential client stopped him and said, "All I'm hearing about is your company. I don't know what any of this has to do with me, my issues, and my priorities."
"You've got to take that time and research how [your product] fits into their needs and their objectives," he said.
The panel wrapped up by discussing what they expect to see in the future and what advice they would give to others in the industry.
"I do think we're going to see a lot more smart devices … where physician instructions are automated on the devices. And we're going to get to the point where we see smart devices drive therapies," said Bill Little, vice president of marketing for global cardiovascular therapies at St. Jude Medical (NYSE:STJ).
Mayberry predicted that hospital consolidation would result in a smaller number of buyers for medical devices.
"There's going to be 150 customers in the United States that matter," he said. "Consolidation really is happening."
And those Fitbit users may be the future, Brownlee said, even though the health care institutions may resist change. He noted that in the Netherlands, physicians have launched a campaign saying, "Don't go to Google for health information." The fact that patients are turning to online sources is because their needs aren't being met in a clinical setting, he added.
"The provider pushes them out of the clinic and into a vacuum," he said. "There's a huge opportunity there to address the needs of patients – who are more sophisticated than we think."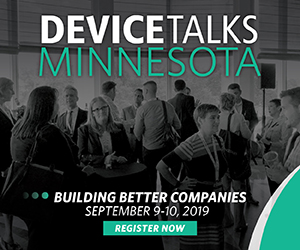 DeviceTalks Minnesota's leadership track is designed to provide attendees with insights on topics such as:
Navigating the path to market
Reimbursement
Winning regulatory approval
Corporate culture
Entering global markets
Leadership
Join industry leaders and medical device professionals at the most awaited medtech conference of the year, DeviceTalks Minnesota.

Use code SAVE15 to save 15%!

REGISTER NOW