Stryker (NYSE:SYK) said today that it closed the $190 million acquisition of Invuity (NSDQ:IVTY), adding the San Francisco-based company's single-use surgical instruments and illumination devices to its portfolio.
The $7.40-per-share deal represented a 28.7% premium over the $5.75 closing price  for IVTY shares Sept. 10, the day before the deal was announced.
"The combination of Stryker's established leadership in minimal access surgery paired with Invuity's suite of enabling visualization and surgical devices should facilitate better patient outcomes and operating room efficiencies in women's health, general surgery, electrophysiology and orthopedics," interim CEO Scott Flora said at the time. "It is with this in mind that Invuity's board of directors voted to recommend this transaction to Invuity's stockholders."
"Invuity's innovative products in the single-use lighted instrumentation and hybrid energy markets provide best in class illumination and help make surgery safer," added Stryker neurotechnology, instruments & spine president Spencer Stiles. "I look forward to the work we will do together to advance Stryker's mission of making healthcare better."
Moelis & Co. advised Invuity, with legal advice from Wilson Sonsini Goodrich & Rosati.
Kalamazoo, Mich.-based Stryker said the deal is expected to be immaterial to net earnings this year.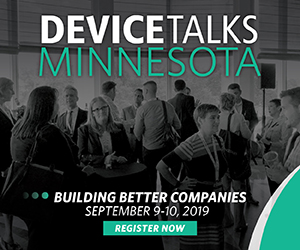 DeviceTalks Minnesota's leadership track is designed to provide attendees with insights on topics such as:
Navigating the path to market
Reimbursement
Winning regulatory approval
Corporate culture
Entering global markets
Leadership
Join industry leaders and medical device professionals at the most awaited medtech conference of the year, DeviceTalks Minnesota.

Use code SAVE15 to save 15%!

REGISTER NOW