Integer Holdings (NYSE:ITGR) said yesterday that it plans to sell its advanced surgical and orthopedic assets to MedPlast for $600 million in a deal that will double MedPlast's top line and bolster the balance sheet for Integer, which missed expectations with its first-quarter earnings.
Proceeds from the all-cash deal, expected to close during the third quarter, are slated to be used to pay down debt, Integer president & CEO Joe Dziedzic said in prepared remarks. The deal does not include Frisco, Texas-based Integer's portable medical line, the companies said.
"After this divestiture and paying down debt with the proceeds, we expect to be a $1.2 billion company with higher margins, increased net earnings, greater returns on invested capital, and significantly lower debt leverage. This increased financial flexibility will enable us to grow our leadership position in our cardio & vascular and cardiac & neuromodulation product lines as we partner with customers to deliver life-changing innovation," Dziedzic said.
It's the third buyout in two years for MedPlast, which bought Vention's medical device manufacturing services division in March 2017 for an undisclosed amount and acquired medical device assembler Coastal Life Technologies three months later. The Tempe, Ariz.-based company said its sales will near the $1 billion mark after the deal, which will also expand its footprint in Europe.
"MedPlast is incredibly excited about the addition of Integer's AS&O capabilities to our existing platform," added CEO Brian King. "This acquisition will further broaden our offerings and strengthen our ability to provide our customers with innovative solutions to meet their challenging needs. It also will provide additional scale and new growth opportunities for MedPlast. We are excited to be working with the AS&O team and look forward to collectively growing our company and continuing to deliver outstanding service to our customers."
Integer's Q1 earnings miss the mark
Despite swinging to first-quarter black for the three months ended March 30, Integer missed the consensus earnings expectation on Wall Street despite beating the sales forecast there.
Profits were $8.1 million, or 25¢ per share, on sales of $381.7 million during the quarter, compared with losses of -$4.3 million during Q1 2017; sales grew 10.5% during the most recent period.
Adjusted to exclude one-time items, earnings per share were 61¢, 9¢ off the consensus; analysts were looking for revenues of $365.0 million.
"Integer delivered another quarter of high-single-digit sales growth with even stronger net income and cash flow growth, which enabled significant debt repayment during the quarter," Dziedzic, said in a separate release. "Our current growth trajectory supports our increased sales, profit and cash flow outlook for 2018.
"During our strategic review last year, we identified the opportunity to unlock significant value for Integer shareholders through the divestiture of our AS&O product line to a market leader like MedPlast. The synergies from this combination include increased innovation, manufacturing capability, and scale, which is reflected in the sale price," he said. "Looking forward, Integer has clear market leadership positions in our remaining product lines, with differentiated technology and increased financial flexibility to invest more aggressively to grow. We are now better positioned to deliver on our objectives of sales growth above the market, profit growth two times sales growth, and to earn a valuation premium."
Although its outlook does not include the impact of the MedPlast deal, Integer said it expects to report adjusted EPS this year of $3.20 to $3.50 on sales of $1.51 billion to $1.55 billion.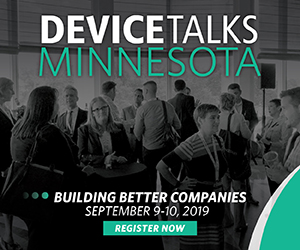 DeviceTalks Minnesota's leadership track is designed to provide attendees with insights on topics such as:
Navigating the path to market
Reimbursement
Winning regulatory approval
Corporate culture
Entering global markets
Leadership
Join industry leaders and medical device professionals at the most awaited medtech conference of the year, DeviceTalks Minnesota.

Use code SAVE15 to save 15%!

REGISTER NOW