NinePoint Medical said today that it won FDA 510(k) clearance for the Intelligent Real-time Image Segmentation software upgrade for its flagship Nvision VLE imaging system.
The newly cleared IRIS is an artificial intelligence-based platform for image feature segmentation, the Bedford, Mass.-based company said. The company touted that the approval was the first of its kind for such a tool intended for use in imaging esophageal tissue.
The NvisionVLE Imaging System is intended to facilitate volumetric laser endomicroscopy procedures that create real-time, high-resolution cross-sectional images, NinePoint said. The system is designed for the evaluation of esophageal tissue surface and sub-surface to analyze for potential diseases which may not be visible through traditional imaging tech.
"The clearance of the IRIS product marks the successful culmination of a multi-year development effort within our organization, and with the Food and Drug Administration. This product is something we at NinePoint, and our customers, are very excited to bring to market. We pride ourselves in customer responsiveness and innovation, key inputs to this new product. We are eager to roll this out in a controlled-market release in the coming months prior to making the technology more broadly available," NinePoint Medical prez & CEO Eman Namati said in a press release.
NinePoint said that the clearance is the first since it inked a strategic collaboration deal with Merit Medical (NSDQ:MMSI), who also serves as its worldwide distributor.
"We are thrilled to continue to see the innovation and development of high quality products from our collaborators at NinePoint. The NvisionVLE Imaging System has been a great strategic addition to the Merit Medical family of GI products, and we look forward to continuing to work together on future product releases," Merit Medical chair & CEO Fred Lampropoulos said in a prepared statement.
In July, NinEpoint Medical said that it appointed Eman Namati as its new president and chief executive officer, succeeding Christopher von Jako who remained on the company's board of directors.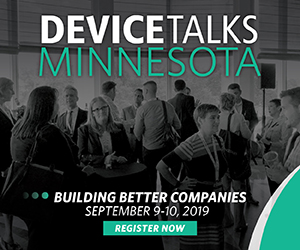 DeviceTalks Minnesota's leadership track is designed to provide attendees with insights on topics such as:
Navigating the path to market
Reimbursement
Winning regulatory approval
Corporate culture
Entering global markets
Leadership
Join industry leaders and medical device professionals at the most awaited medtech conference of the year, DeviceTalks Minnesota.

Use code SAVE15 to save 15%!

REGISTER NOW