Abbott (NYSE:ABT) said today that it won FDA approval for its TactiCath Sensor Enabled contact force ablation catheter intended for use in treating atrial fibrillation.
The newly cleared TactiCath SE is intended to provide precise images of the heart overlaid with real-time electrical activity information, the Chicago-area medtech company said. The catheter also features an ergonomic design also used in the company's FlexAbility catheter intended to improve reach and maneuverability.
"Cardiac ablation has become a front-line therapy in the fight against conditions like atrial fibrillation in part because of improvements to the technology available today. The Abbott TactiCath SE ablation catheter represents one of those major improvements, and offers an incredibly powerful, yet easy to use, combination of advanced technologies to improve ablation procedures," Dr. Roger Winkle of Redwood City, Calif.'s Sequoia Hospital, who was one of the first to treat patients with the newly FDA-approved catheter, said in a prepared statement.
Abbott touted the addition to its electrophysiology portfolio, saying it has also recently launched its Advisor Sensor Enabled HD grid mapping catheter and FlexAbility Sensor Enabled ablation catheter.
"TactiCath SE directly supports our goal of supporting fast, effective and safe cardiac ablation procedures. As more physicians turn to cardiac ablation to treat AFib, Abbott's goal is to equip them with the most advanced ablation catheters combined with the most advanced cardiac mapping on the market," Abbott electrophysiology biz medical director Dr. Srijoy Mahapatra said in a press release.
Last week, Abbott said that it plans to acquire mitral heart valve replacement tech developer Cephea Valve Technologies for an undisclosed amount.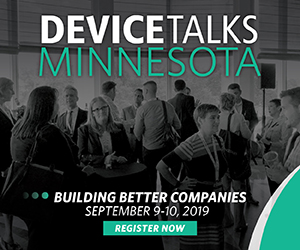 DeviceTalks Minnesota's leadership track is designed to provide attendees with insights on topics such as:
Navigating the path to market
Reimbursement
Winning regulatory approval
Corporate culture
Entering global markets
Leadership
Join industry leaders and medical device professionals at the most awaited medtech conference of the year, DeviceTalks Minnesota.

Use code SAVE15 to save 15%!

REGISTER NOW