Boston Scientific (NYSE:BSX) today touted 12-month data for its Vici venous stent in people with significant obstructions in the illiofemoral venous outflow tract.
Researchers reported that the Vici stent met its primary efficacy endpoint with a primary patency rate of 84% at one year. Nearly 99% of people treated with the Vici stent were free from major adverse events at 30 days, Boston Scientific noted.
"In treating patients with venous obstruction, the primary goal is to restore and maintain vessel patency to ensure the return of blood flow to the heart," principal investigator Dr. Mahmood Razavi said in prepared remarks. "In these results, the Vici stent demonstrated excellent performance outcomes in a difficult-to-treat patient population, which translates to improvement of long-term symptoms and enhanced quality of life in these patients."
The results of the 170-patient trial will be used to support FDA approval for Vici, according to the president of Boston Scientific's peripheral interventions unit, Jeff Mirviss.
"This trial is unique in the fact that it studied a very challenging patient population," he added. "Three quarters of the patients in this trial have chronic venous disease, which is a debilitating condition that patients suffer from pain and swelling and ulceration. It's the toughest of the toughest of venous diseases. And the Vici stent performed extremely well in this difficult patient population.
"Our view is that this'll be an important treatment alternative for physicians that are treating venous disease. There are no on-label venous stents in the US. And so physicians are using arterial stents off-label, and I think this will give them a really high quality, safe and effective choice to treat their patients with," Mirviss said.
The Boston Scientific executive noted that the Vici venous stent perfomed well, in part, due to its unique design.
"The Vici venous stent was purposely built for the venous anatomy, and the venous system is very different than the arterial system. It's important for stents to have a lot of strength and flexibility and resistance to crushing. And the lumen shape matters a lot, – what you get with the Vici stent is a very nice round, circular lumen and that circular lumen is important for blood flow and overall performance," he said. "And so in addition to being on-label and excellent clinical data, that design intent is a critical success factor."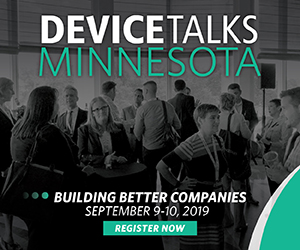 DeviceTalks Minnesota's leadership track is designed to provide attendees with insights on topics such as:
Navigating the path to market
Reimbursement
Winning regulatory approval
Corporate culture
Entering global markets
Leadership
Join industry leaders and medical device professionals at the most awaited medtech conference of the year, DeviceTalks Minnesota.

Use code SAVE15 to save 15%!

REGISTER NOW