AdvaMed said this week it filed a petition with the U.S. Trade Representative, looking to suspend Generalized System of Preferences benefits to India in light of its recently imposed price caps on medical devices.
The agency said that after months of consideration, it determined it had no alternative outside of the petition as it looks to aid in the lifting of the price caps.
"AdvaMed and its members are deeply concerned about recently implemented price controls on coronary stents and knee replacement implants in India that have slashed prices by as much as 85% and 70%, respectively, followed by signals that price caps for additional life-saving and life-improving medical devices may be forthcoming. AdvaMed and its member companies remain committed to working with all health care stakeholders in India to find mutually acceptable, sustainable solutions to improving patient access to life-changing innovations from the medical technology industry. Our intention is not for India to lose the benefits of GSP, but rather to advance engagement and meaningful discussions on restoring market access for medtech in India while keeping patients' interests at the center of all discussions," prez & CEO Scott Whitaker said in a press release.
The GSP is a trade preference program the US uses which provides duty-free treatment for imports from beneficiary developing countries intended to provide incentives for market-oriented reforms and improved access to American goods and services, AdvaMed said.
"As has been observed from experience and by many experts, every government needs to take a comprehensive approach to ensuring patient access to high-quality care, taking their own unique circumstances into account. However, India's singular focus on controlling ceiling prices of high-quality medical devices, without any attempt to address the larger picture and correct inefficiencies in the health care system, will not achieve its intended benefits. Recent reports indicate that the lowering of prices on medical devices – which are only one component of overall procedure costs – are not being passed along to patients. Price controls may also block innovations and limit patient access to the best available care. The draconian price controls implemented earlier this year came despite ongoing efforts by industry and health care providers to work with the government of India and other stakeholders toward market-based alternatives that would allow for price differentiation for individual products, based on technological differences, and unimpeded patient access. Failure to implement a mutually acceptable alternative could deter global organizations from making their latest products available to India's health care providers and patients, make Indian innovators less competitive in global markets, negatively impact future investment in India, and ultimately harm patients. We believe a stable and predictable market environment is key to driving investments in R&D, manufacturing, and other services to grow the medical technology industry in India, and meet the current and future needs of all of India's people," Whitaker said in a prepared statement.
The move comes after the U.S. government applied its own perssure to India to halt the extension of price caps on medical devices and to allow businesses to withdraw their products from the market if they don't want to sell at those rates.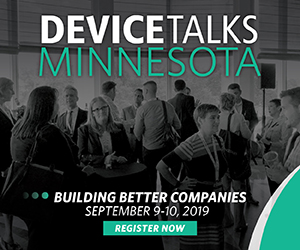 DeviceTalks Minnesota's leadership track is designed to provide attendees with insights on topics such as:
Navigating the path to market
Reimbursement
Winning regulatory approval
Corporate culture
Entering global markets
Leadership
Join industry leaders and medical device professionals at the most awaited medtech conference of the year, DeviceTalks Minnesota.

Use code SAVE15 to save 15%!

REGISTER NOW