St. Jude Medical founder Manny Villafaña's newest medical play, Medical 21, has registered for an upcoming $10 million equity offering, according to a recently posted SEC filing.
The company, which was unveiled in late 2017, is developing an artificial blood vessel as an alternative to harvesting blood vessels for coronary artery bypass surgeries, and has already begun animal testing of the technology.
Medical 21 is using a new material developed by the University of Iowa and licensed to the company to make its artificial vessels. The material consists of cellulose graft conduits supported by a thin nitinol wire, similar to what was used in Villafaña's previous start-up, Kips Bay Medical, which closed its doors in 2015.
So far, no one is listed as having joined the round, but the company expects that approximately $500,000 of funds raised will be used for paying executives at the firm, according to the SEC filing.
Medical 21 is keeping a low profile and has not yet released any official information on the round or updated on its developments.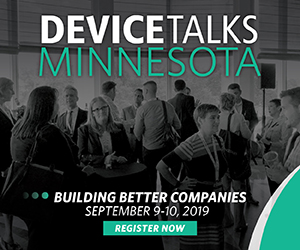 DeviceTalks Minnesota's leadership track is designed to provide attendees with insights on topics such as:
Navigating the path to market
Reimbursement
Winning regulatory approval
Corporate culture
Entering global markets
Leadership
Join industry leaders and medical device professionals at the most awaited medtech conference of the year, DeviceTalks Minnesota.

Use code SAVE15 to save 15%!

REGISTER NOW