Shares in Varian Medical (NYSE:VAR) have fallen slightly today after the medical device maker posted fiscal year 2019 second quarter earnings that topped sales expectations but missed on earnings per share consensus on Wall Street.
The Palo Alto, Calif.-based company posted profits of $88.4 million, or 96¢ per share, on sales of $779.4 million for the three months ended March 29, for bottom-line growth of 20.8% while sales grew 6.8% compared with the same period during the previous year.
Adjusted to exclude one-time items, earnings per share were $1.05, just behind the $1.15 consensus on Wall Street where analysts expected to see sales of $776.3 million, which the company topped.
"In the second quarter, we maintained strong momentum. Each of our geographies delivered exceptional orders growth, including strong double-digit performance in APAC and the seventh consecutive quarter of double-digit growth in EMEA. Based on the company's results year-to-date and our outlook for the rest of the year, we are raising our fiscal year revenue guidance to 6 to 9% while increasing investments in growth priorities such as groundbreaking preclinical research with our FlashForward Consortium," CEO Dow Wilson said in a press release.
Varian raised its guidance for its fiscal year 2019, expecting to post sales of between $3.09 billion and $3.18 billion, up from previous guidance of between $3.06 billion and $3.15 billion.
The company reiterated its non-GAAP earnings per share guidance, expecting to post between $4.60 and $4.75 for the full year.
Shares in Varian are down approximately 1.2% today, at $131.64 as of 10:28 a.m. EDT.
Earlier this month, Varian said that it won an approximately $7.1 million delivery order against a five-year basic ordering agreement to supply the U.S. Department of Defense with two linear accelerator systems.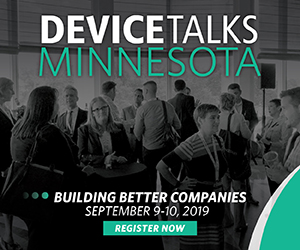 DeviceTalks Minnesota's leadership track is designed to provide attendees with insights on topics such as:
Navigating the path to market
Reimbursement
Winning regulatory approval
Corporate culture
Entering global markets
Leadership
Join industry leaders and medical device professionals at the most awaited medtech conference of the year, DeviceTalks Minnesota.

Use code SAVE15 to save 15%!

REGISTER NOW