Shares of St. Jude Medical (NYSE:STJ) clawed back some of the value lost yesterday in what 1 waggish analyst termed a "Greek tragedy."
STJ shares closed down 3.3% yesterday at $39.96 when the company revealed a $56 million writedown after a Greek distributor failed to pay up for an estimated 2 years worth of sales.
Calling it a "Greek tragedy," Citigroup analyst Matthew Dodds wrote a research note to investors that St. Jude waited longer than other companies to write down its Greek receivables.
"[St. Jude] has not disclosed how long it has been since this distributor has paid them, but our math suggests $56 million is at least 2 years' worth of sales in Greece based on competitor sales basis (pre-crisis)," Dodds wrote.
The Greek government, the International Monetary Fund and the European Union inked a deal in February to resolve that country's massive debt crisis.
"This agreement, among other macroeconomic and factors specific to the distributor, negatively impacted the solvency and liquidity of the company's Greek distributor, raising significant doubt regarding the collectability of our outstanding accounts receivable balance of approximately $56 million," St. Jude said in the SEC filing. "We have also experienced delays in the collectability of receivables in certain European member states, particularly in Southern Europe. Although we still expect to fully collect these receivables, there can be no assurances that additional negative economic disruptions and slowdowns in Europe may result in us not fully collecting these receivables, adversely affecting our cash flows, financial position and results of operations. Additional prolongation of the economic disruptions in Europe may negatively impact reimbursement rates and procedural volumes and adversely affect our business and results of operations."
STJ shares were trading at $40.91 as of about 11:50 today, up 2.4% on the day.
Nuance to pay $300M to Transcend

Nuance Communications agreed to pay $300 million to acquire medical transcription and speech editing services provider Transcend Services. Read more
Report: Syneron in talks to buy TransPharma

Syneron Medical (NSDQ:ELOS) is in talks to purchase transdermal drug delivery firm TransPharma Medical for $15 million, according to an Israeli news outlet. Read more
ACT's 2011 cash burn ramps up on clinical trials

Advanced Cell Technology (OTC:ACT) said its cash burn went up 55% last year, as it ramped up the first -ever clinical trial involving human embryonic stem cells. Read more
CareFusion wins $75M DoD contract

CareFusion (NYSE:CFN) won a $75 million contract from the U.S. Defense Dept. for "medical equipment, maintenance and/or spare parts/repair parts of medical equipment. Read more
Amgen closes Micromet tender offer

Amgen (NSDQ:AMGN) said it now owns more than 88% of Micromet (NSDQ:MITI) and plans to buy the rest by the end of the day, when MITI shares will cease trading publicly and the $11-per-share, $1.16 billion offer closes. Read more
Allezoe deals Organ Transport Systems back to Healthcare of Today
Allezoe Medical Holdings (OTC:ALZM) agreed to reverse its takeover of Organ Transport Systems from Healthcare of Today Inc. after it realized it will take about $10 million to get the technology ready for market. Read more
Hill-Rom raises Q2 dividend
Hill-Rom Holdings (NYSE:HRC) raised its 2nd-quarter dividend by 11 percent to 12.5 cents per share, payable March 30. Read more
Baxter issues Q4 dividend
Baxter International (NYSE:BAX) declared a quarterly dividend of 33.5 cents per share, payable April 2. Read more
Nordion issues Q4 dividend

Nordion (NYSE:NDZ) declared a quarterly dividend of 10 cents per share, payable April 5. Read more
Baxter (NYSE:BAX): RBC Capital maintains "outperform" rating.
Mako Surgical (NSDQ:MAKO): Leerink Swann maintains "market perform" rating, raises price target from $35 to $39.
Zeltiq (NSDQ:ZLTQ): Goldman Sachs downgrades from "buy" to "neutral," lowers price target from $19 to $8.50.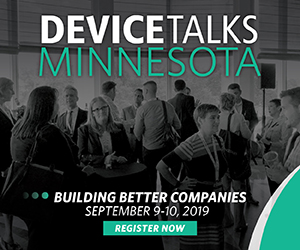 DeviceTalks Minnesota's leadership track is designed to provide attendees with insights on topics such as:
Navigating the path to market
Reimbursement
Winning regulatory approval
Corporate culture
Entering global markets
Leadership
Join industry leaders and medical device professionals at the most awaited medtech conference of the year, DeviceTalks Minnesota.

Use code SAVE15 to save 15%!

REGISTER NOW