Novel sensory device maker NeoSensory has raised approximately $11.8 million in a new round of equity financing, according to a recently posted SEC filing.
NeoSensory is developing products that allow individuals with hearing loss or no hearing to "sense" sound by converting it into vibrations delivered to the user's skin.
The company was spun-off in 2015 from an initial device, the VEST, which was developed by Scott Novice and David Eagleman.
"We focus on sending a variety of data streams to the brain via the sense of touch. With so much unused real estate on the body, the skin presents huge potential for the delivery of new information. We are currently building the world's first hearing assistive technology that enables people to listen with their skin," the company states on its website.
Money in the round came from 18 unnamed sources, according to the filing, with the first sale noted as having occurred on December 21, 2018.
The Palo Alto, Calif.-based company is not looking to raise any more money in the round, and has not yet stated how it plans to spend funds raised in the offering.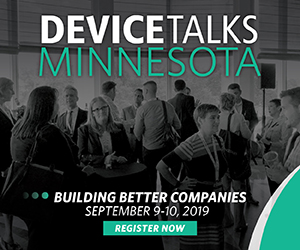 DeviceTalks Minnesota's leadership track is designed to provide attendees with insights on topics such as:
Navigating the path to market
Reimbursement
Winning regulatory approval
Corporate culture
Entering global markets
Leadership
Join industry leaders and medical device professionals at the most awaited medtech conference of the year, DeviceTalks Minnesota.

Use code SAVE15 to save 15%!

REGISTER NOW