A research registry helped Inga Hofmann, MD, PhD, search the genomes of several patients with a rare blood disorder and reveal new mutations behind it. (Michael David Pedersen/Flickr)
By Tom Ulrich
To really understand rare conditions, you need a lot of data from a lot of patients. But no one hospital or center usually sees more than a few patients with any given rare disease, precisely because they're rare.
This is where case registries become important. These research collaborations, which usually span several institutions, typically focus on a single rare disease or a few related conditions, serving as a data warehouse for collecting information from as many patients and as many places as possible.
One such registry based out of Dana-Farber/Boston Children's Cancer and Blood Disorders Center – the Pediatric Myelodysplastic Syndromes (MDS) and Bone Marrow Failure (BMF) Registry – has recently started to bear fruit, finding that a unique set of mutations in a single gene may play a larger-than-realized role in a group of rare blood diseases.
The registry – launched in 2010 by Dana-Farber/Boston Children's hematologist/oncologist and hematopathologist Inga Hofmann, MD, PhD, Dana-Farber/Boston Children's chief David Williams, MD, and Boston Children's Hospital Pathologist-in-Chief Mark Fleming, MD, DPhil – is the first of its kind for pediatric myelodysplastic syndromes and bone marrow failure disorders, a list that includes diseases like refractory cytopenia (a form of childhood MDS), aplastic anemia and Diamond Blackfan anemia.
"MDS is the most common hematologic malignancy among the elderly, but pediatric MDS is very rare," says Hofmann. "It appears in only about four out of every million children.
"One of the biggest challenges for those of us caring for MDS patients is that the underlying etiology and biology of MDS are poorly understood," Hofmann says. "We have barely started to scratch the surface."
The registry's main goal is "to collaborate with national and international centers to advance scientific knowledge in the field and work toward the discovery of new targets for therapy." And after three years of work, the team has started to make some progress toward that goal. As they told an audience of pediatric hematologists and oncologists at the 2013 annual meeting of the American Society of Pediatric Hematology Oncology, Hofmann, Williams and Fleming have homed in on mutations in a transcription factor – a gene that helps cells read other genes – called GATA2.
"In reviewing case histories, family pedigrees and mutation status, we have noted a spectrum of GATA2 mutation phenotypes that reveal themselves in features of patients' hematology, immunology and infection susceptibilities," Hofmann says.
It started with two MDS patients whose families had histories of blood disorders and lymphedema or warts. After finding GATA2 mutations in both families, Hofmann and her colleagues sequenced the gene in blood and bone marrow from an additional 94 registered patients with bone marrow failure or primary MDS. They found 12 people with a GATA2 mutation: six patients, two first-degree relatives and four sporadic cases.
"This is a much higher mutation rate than we would have expected to find," Hofmann notes.
The six patients all had different forms of MDS, from relatively minor to very advanced forms, including some that had turned into acute myeloid leukemia. And they and their families, as well as the sporadic cases, harbored a spectrum of different kinds of GATA2 mutations (e.g., nonsense, frameshift, missense). Those mutations also were linked to a similarly wide range of clinical features, including lymphatic disorders, susceptibility to certain infections, gastrointestinal bleeding and warts.
Based on their findings, the team has started to build a profile of clinical characteristics that other doctors could use to look for cases of MDS driven by GATA2 mutations. They also are trying to expand their knowledge of MDS biology by carrying out whole and targeted exome sequencing on more than 100 additional patients, looking for mutations found in adult MDS patients but not yet noted in children.
Hofmann's take-home message: "There is a wide phenotypic spectrum in pediatric MDS and BMF disorders, requiring a multidisciplinary approach to care. They are challenging diseases to study, but next-generation sequencing technologies and familial analyses are providing valuable new insights. We can learn from every single patient."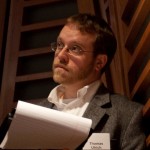 Tom Ulrich is a senior science writer in the Children's Hospital Boston Department of Public Affairs, covering laboratory and clinical research innovations across the hospital. Over the last ten years, Tom has parlayed his curiosity about science and passion for science writing and communications into a number of roles, including development writer at Dana-Farber Cancer Institute, marketing writer at AIR Worldwide, and editorial & account director at Feinstein Kean Healthcare. Most recently, he was the communications manager at Harvard Catalyst | The Harvard Clinical and Translational Science Center. Tom earned a master's degree in molecular microbiology and immunology from the Bloomberg School of Public Health at Johns Hopkins University, and is an amateur photographer.