Covidien (NYSE:COV) is set to close a $350 million buyout of Israeli lung diagnosis firm superDimension by the end of the week, according to Israeli business journal Calcalist.
Founded in Tel Aviv by Pinchas Gilboa, Minneapolis-based superDimension, which employs about 120 people worldwide, also has offices in Dusseldorf, Germany.
Yesterday rumors swirled on Wall Street about a possible buyout, with Johnson & Johnson (NYSE:JNJ) and Medtronic (NYSE:MDT) mentioned as potential suitors, alongside Covidien.
The company's i-Logic electromagnetic navigation bronchoscope is used to diagnose pulmonary diseases like emphysema, cancer and tuberculosis, using a technology based on electromagnetic tracking, image processing and endoscopy. The sysem won CE Mark approval in the European Union in 2002 and 510(k) clearance from the FDA in 2004.
superDimension has drummed up about $120 million from backers, Calcalist reported, and posted sales of about $30 million last year. The company followed a $25 million funding round in September 2010 with an $11 million round a year later, according to the newspaper. Backers include Pitango, Medica Venture Partners, Orbimed, Pfizer, Axiom fund founder Efi Gildor, Evergreen, Gemini, Oxford Bioscience Partners, Mi3 and Fidelity, according to Calcalist.
"Covidien does not comment on market rumors or speculation," a spokeswoman told MassDevice.com via email.
Medtronic files for senior note offering

Medtronic (NYSE:MDT) files a prospectus with the SEC for a debt offering of senior notes it expects to issue this month. Read more
pSivida inks 2nd evaluation deal for Durasert eye implant

pSivida Corp. (NSDQ:PSDV) inked a technology evaluation deal for its Durasert implant, which is designed to deliver drugs to the back of the eye, with ophthalmic compound developer Neuron Systems. Read more
Viking Systems expands China footprint

Viking Systems (OTC:VKNG) said its Chinese distributor bought a quartet of its 3DHD Vision systems for new training centers it's opening in the People's Republic. Read more
BioDirection licenses Nanosys nanowire patents

Brain screening device maker BioDirection said it signed an exclusive licensing deal for Nanosys Inc.'s portfolio of nanowire patents and patent applications. Read more
Cameron Health buyout points to med-tech M&A trend

Acquirers are increasingly opting for companies that have already assumed the risk of getting regulatory approvals, rather than earlier-stage firms, as evidenced by Boston Scientific's (NYSE:BSX) buyout of already-CE-Marked Cameron Health for up to $1.35 billion.
"It's important to point out that this product is approved in EU today and we expect FDA approval in the first half of 2013. So this is very different from some projects that will be 4-5 years before an FDA approval and several years before an EU approval," Joe Fitzgerald, president of BSX's cardiac rhythm management arm, told MedCity News. "This presents much nearer-term revenue and market share opportunity for Boston Scientific and it fits very nicely with our deal model of when and what it will return to our shareholders." Read more
Covidien, Kensey Nash announce dividends

Covidien (NYSE:COV) declared a quarterly cash dividend of 22.5¢ per share, payable May 7; Kensey Nash (NSDQ:KNSY) declared a cash dividend of 25¢ per share, payable May 31. Read more
GPOs: Novation, Premier ink new hospital bed, HIT and wound care products

Novation signed a deal with Linet for its Eleganza line of medical surgical beds and Multicare ICU bed; Premier Healthcare Alliance inked deals with GE Healthcare (NYSE:GE) and Philips Healthcare (NYSE:PHG) for obstetrical data management systems and signed agreements for advanced wound care with BSN Medical, Eloquest Healthcare, Integrated Healing Technologies and Irrimax Corp. Read more
Analysts' ups and downs
Covidien (NYSE:COV): Jefferies increases price target from $57 to $61, maintains "buy" rating.
Omeros (NSDQ:OMER): Canaccord Genuity upgrades from "hold" to "buy," increases price target from $5 to $13; Deutsche Bank raises rating to "buy" from "hold," raises price target from $6 to $11.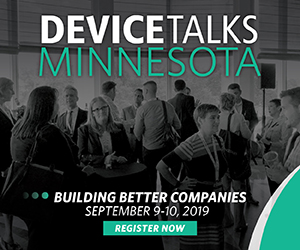 DeviceTalks Minnesota's leadership track is designed to provide attendees with insights on topics such as:
Navigating the path to market
Reimbursement
Winning regulatory approval
Corporate culture
Entering global markets
Leadership
Join industry leaders and medical device professionals at the most awaited medtech conference of the year, DeviceTalks Minnesota.

Use code SAVE15 to save 15%!

REGISTER NOW