Motus GI (NSDQ:MOTS) shares got quite a bump yesterday on positive data for its PureVu colonoscopy prep device, before a general market sell-off brought the stock back down to earth.
Ft. Lauderdale, Fla.-based Motus GI's PureVu device is designed to attach to standard and slim colonoscopes to deliver a mixture of water and air to remove debris even when patients haven't completed their bowel prep.
The 46-patient study, presented yesterday at the annual meeting of the American College of Gastroenterology, compared standard colonoscopy with use of the PureVu device in patients who ate the day before and performed minimal prep on their own. Data from the trial showed that intra-procedural cleansing with the PureVu device delivered a significant bump to patients' Boston Bowel Preparation Scale. PureVu-treated patients went from an average BBPS baseline of 3.67 to 8.91 on the 9-point scale, Motus GI said.
"We continue to be encouraged by the clinical results being produced by the Pure-Vu system. Its ability to consistently demonstrate the safe and efficient cleansing of insufficiently prepped colons during colonoscopy positions the Pure-Vu system to potentially become a new standard of care, especially for inpatients whose diagnosis and treatment is often delayed due to the current preparation requirements. The data from this study also provides valuable insight into our ongoing Reduce and upcoming Expedite studies, both of which utilize the BBPS as a measure of colon cleanliness as a primary endpoint," CEO Tim Moran said in prepared remarks. "The successful execution of these studies is an important step in our ongoing market development activities, which we believe will help to accelerate initial market adoption for the upcoming commercial launch of the Pure-Vu system in 2019."
"The data from this study support the safety and effectiveness of the Pure-Vu system in patients with very dirty colons," added Dr.Gerald Bertiger, of Flourtown, Pa.'s Hillmont GI, who presented the data at the ACG meeting. "Usability of the Pure-Vu system was also easy and enabled a 100% success rate in the completion of the colonoscopies performed with successful intra-procedural cleansing of the colon. This study gives us solid insight into how the Pure-Vu system can support patients that need a colonoscopy for urgent reasons in an inpatient environment as well as patients with medical issues that have significant issues with tolerating current preparation regimes."
MOTS shares jumped some 17% yesterday in pre-market trading on the news, before opening up 10.6% at $5.13 apiece. But as the broader market declined yesterday – the Dow Jones Industrial average closed down -1.2% at 25,304.19, while the S&P 500 index also ended down -1.2% at 2,751.59 and the NASDAQ index lost -0.7%, closing at 7,371.77 – so did Motus GI shares, which closed down -3.0% at $4.50 apiece.
The stock was trading at $4.48 per share today in mid-day activity, down -0.4%.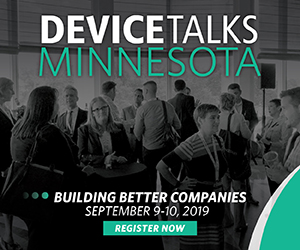 DeviceTalks Minnesota's leadership track is designed to provide attendees with insights on topics such as:
Navigating the path to market
Reimbursement
Winning regulatory approval
Corporate culture
Entering global markets
Leadership
Join industry leaders and medical device professionals at the most awaited medtech conference of the year, DeviceTalks Minnesota.

Use code SAVE15 to save 15%!

REGISTER NOW