Royal Philips (NYSE:PHG) said today that it's rejiggering its corporate structure and promoting the head of its image-guided therapies business to its executive committee.
The Dutch healthcare giant said the changes include shifting sleep & respiratory from the personal health segment to the new connected care division and moving healthcare informatics into the diagnosis & treatment segment.
Under the new structure Philips has thee divisions, effective Jan. 1:
The diagnosis & treatment business, including diagnostic imaging, ultrasound and healthcare informatics, is led by Rob Cascella. Bert van Meurs, newly elevated to the executive committee, leads the image-guided therapy business under the Dx & treatment umbrella.
The connected care business now includes monitoring & analytics, therapeutic care, population health management and sleep & respiratory care, led by Carla Kriwet.
The personal health segment includes personal care, domestic appliances, oral healthcare and mother & child care and is led by Roy Jakobs.
"The appointment of Bert van Meurs as a new member of the executive committee reflects the growth of our image-guided therapy businesses," CEO Frans van Houten said in prepared remarks. "To strengthen our leadership in this fast-growing market, we have significantly invested in our R&D programs which resulted in the launch of the very successful Azurion next-generation image-guided therapy platform, and the acquisitions of Volcano, Spectranetics and most recently EPD Solutions, which enabled the expansion into smart devices such as diagnostic and therapeutic catheters."
Philips also reinforced its guidance for 2017 to 2020, saying it still expects to log 4% to 6% comparable sales growth and add 100 basis points to its adjusted EBITA margin. The company also doubled down on its pledge to improve organic return on invested capital to mid-to-high-teens levels in 2020. The target for annual free cash flow is more than €1.5 billion in 2020, Philips said.
The company plans to release its full fourth-quarter and 2018 results Jan. 29.
PHG shares, which closed up 3.0% at $35.47 apiece yesterday in New York, were off -0.8% to $35.19 each in pre-market trading today.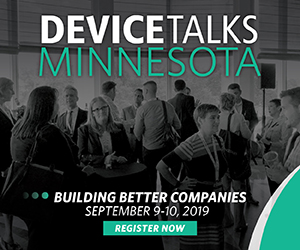 DeviceTalks Minnesota's leadership track is designed to provide attendees with insights on topics such as:
Navigating the path to market
Reimbursement
Winning regulatory approval
Corporate culture
Entering global markets
Leadership
Join industry leaders and medical device professionals at the most awaited medtech conference of the year, DeviceTalks Minnesota.

Use code SAVE15 to save 15%!

REGISTER NOW