Royal Philips (NYSE:PHG) and Medtronic (NYSE:MDT) inked a deal to integrate the Dutch firm's Kodex EPD cardiac imaging guidance with Medtronic's Arctic Front Advance cryoablation catheter.
"This integrated solution can guide physicians during the treatment of AF patients with ablation, as they can view detailed, CT-like 3D anatomy, reducing the need for X-ray imaging," EPD solutions business leader Marlou Janssen said in prepared remarks. "Partnering with Medtronic extends the reach of our Kodex-EPD cardiac imaging and navigation system. Today, this technology is simplifying navigation, and in the future it has potential for a wide range of applications, including addressing the key unmet need of real-time therapy assessment – one of the more significant limitations of the current standard of care."
"When available, physicians will have the ability to use an innovative cardiac imaging and mapping system during cryoablation procedures, while also realizing the significant benefits of our best-in-class cryoablation therapy," added atrial fibrillation solutions GM Rebecca Seidel. "AF is a growing epidemic and we are committed to providing solutions to electrophysiologists that help address the needs of their patients."
Philips said it aims to have the integrated solution on the market in the U.S. and Europe in during the fourth quarter.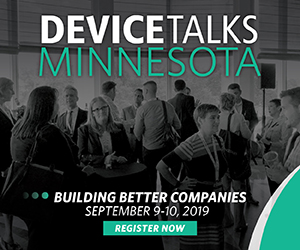 DeviceTalks Minnesota's leadership track is designed to provide attendees with insights on topics such as:
Navigating the path to market
Reimbursement
Winning regulatory approval
Corporate culture
Entering global markets
Leadership
Join industry leaders and medical device professionals at the most awaited medtech conference of the year, DeviceTalks Minnesota.

Use code SAVE15 to save 15%!

REGISTER NOW