SPR Therapeutics touted a regulatory win across the pond for its Smartpatch peripheral nerve stimulation system for treating chronic shoulder pain as a result of stroke.
Cleveland, Ohio.-based SPR's Smartpatch system is a "skin-mounted external stimulator" that can deliver up to 30-days of pain relief, according to a press release.
The device is the 1st in a line of what SPR calls a platform technology being developed to "address a spectrum of pain indications," according to a prepared release. Earlier this month, SPR closed a $5 million Series A round to conduct clinical studies using the technology on multiple pain indications, including post-operative joint pain and lower back pain.
The company is also pursuing a pivotal trial to support FDA clearance for the Smartpatch system. SPR's technology is currently limited to investigational use in the U.S.
The Smartpatch system uses peripheral nerve stimulation to treat pain, with electrodes positioned in proximity to, but not directly contacting, peripheral nerves, company officials said.
SPR was founded in 2010 as a portfolio company of NDI Medical, Inc., a venture capital firm focused on investing in the neurodevices sector, which the firm defines as stimulators, surgical equipment and software to treat illnesses of the brain and nervous system.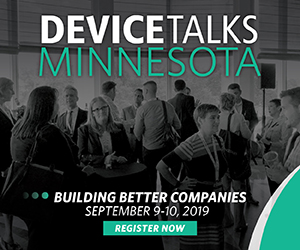 DeviceTalks Minnesota's leadership track is designed to provide attendees with insights on topics such as:
Navigating the path to market
Reimbursement
Winning regulatory approval
Corporate culture
Entering global markets
Leadership
Join industry leaders and medical device professionals at the most awaited medtech conference of the year, DeviceTalks Minnesota.

Use code SAVE15 to save 15%!

REGISTER NOW