Shares in Owens & Minor (NYSE:OMI) have fallen more than 40% so far today after the company released its third quarter earnings, despite the company beating expectations on Wall Street.
The Richmond, Va.-based company posted losses of $565,000, or 1¢ per share, on sales of approximately $2.5 billion for the three months ended September 30, seeing a 105.2% swing into the red while sales grew 5.6% compared with the previous year.
Adjusted to exclude one-time items, earnings per share were 32¢, down 20% from the same quarter last year but just in line with the 32¢ consensus on Wall Street, where analysts expected too see sales of $2.5 billion, which it also met.
"Our teams are working diligently to integrate the Halyard S&IP business and to address the continuing challenges we are facing in our domestic distribution business. The strategic moves we have made into attractive alternate sites of care with Byram, and in meaningfully building our own brand product portfolio with Halyard, have strengthened and diversified our business.  These new businesses are helping to offset the continued pressures we face in our domestic distribution business," prez & CEO P. Phipps said in an SEC filing.
Owens & Minor shifted its earning per share expectations for the full year to between $1.20 and $1.25.
"For 2018, our revised guidance range reflects lower year-to-date results and reduced expectations for our Global Solutions SBU. In addition, we expect Global Products' production costs to be higher in the fourth quarter than in the third quarter. In light of this revised guidance range for 2018, we are re-evaluating our prior outlook for 2019 and anticipate issuing guidance for 2019 in the first quarter of next year. We remain focused on improving our operating performance and on executing our strategy to strengthen our company for the future," CEO Phipps said in a prepared statement.
Shares in Owens & Minor have fallen approximately 41.6% today, at $8.30 as of 2:00 p.m. EDT.
In May, Owens & Minor said that it closed the $710 million acquisition of Halyard Health's (NYSE:HYH) surgical and infection prevention business.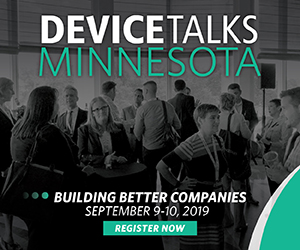 DeviceTalks Minnesota's leadership track is designed to provide attendees with insights on topics such as:
Navigating the path to market
Reimbursement
Winning regulatory approval
Corporate culture
Entering global markets
Leadership
Join industry leaders and medical device professionals at the most awaited medtech conference of the year, DeviceTalks Minnesota.

Use code SAVE15 to save 15%!

REGISTER NOW