Medical device companies frequently need to conduct bioskills training events either to educate their sales force on new devices/technology, to educate new hires to the sales force, or to provide hands-on experience to the surgeons who may be using their devices.  This is especially true for companies manufacturing products used in interventional cardiovascular procedures and endoscopic procedures.
Frequently, the medical device companies either lack the internal facilities to hold these events, or if they do have them, they are at the "hub" or main facility and there is a need to host an event in another region of the country.  Enter the CRO.  Holding a bioskills training event at a CRO utilizes facilities already in place, with personnel trained in handling multiple laboratory species, and with available surgical suite space.  The medical device company and CRO work together to hold the event, with the company supplying the specialized equipment and the CRO providing the space, animals, and trained personnel.  The CRO can provide meeting room space as well as the surgical suite and personnel.
So when planning your next training event, consider reaching out to your local CRO to explore how they can assist you in having a successful bioskills lab.
Toxikon Efficacy and Surgical Research Services: Surgical Research Development Partner
The ESRS expertise at Toxikon provides researchers and product developers with access to resources and scientific capabilities typically found only in academic settings. Our team of veterinarians and scientists offer years of experience in developing and overseeing preclinical research for numerous therapeutic areas for both medicals device and drug development. The Department of Efficacy and Surgical Research Services is uniquely equipped to assist in the development of tomorrow's lifesaving medical devices and drugs. Our experts are well-versed in comparative medicine as well as special surgical approaches, delivery methods, various imaging modalities, and regulatory consulting. Our study directors offer a team approach to aid you in proof of concept/pilot studies and work with you through full GLP studies. Our team offers personalized and individual assistance from selecting animal models, developing surgical models/approaches, developing animal/study protocols, all the way to analyzing data and generating reports. We make it our priority to provide quality data in a timely manner, and understand the need to generate results quickly while operating within your budget. At Toxikon, we value the team approach and welcome our clients to be active participants in their research. Our facilities offer the capabilities to handle large and small animal models, including swine and sheep. Alongside our two vivariums, our fully equipped surgical and procedure spaces offer the latest in surgical equipment, monitoring, and imaging. Toxikon's special support services can provide full hematological assessments, biochemistry, analytical, and histopathology allowing us to meet all of your efficacy and surgical needs. Our facilities are also equipped to handle multiple surgical stations to accommodate physician trainings and demonstrations. Our ESRS team offers full-set up and surgical monitoring to allow you to focus on the training. We will work with your partners to offer the most professional and collaborative environment possible. At Toxikon we can accommodate large groups and even provide remote visualization of procedures and surgeries within our facilities and around the world. Located outside Boston allows easy access to our facilities with local accommodations, making it the perfect place to hold your next training.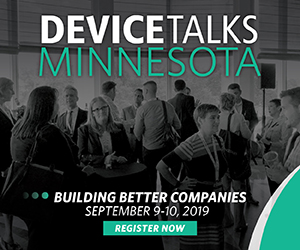 DeviceTalks Minnesota's leadership track is designed to provide attendees with insights on topics such as:
Navigating the path to market
Reimbursement
Winning regulatory approval
Corporate culture
Entering global markets
Leadership
Join industry leaders and medical device professionals at the most awaited medtech conference of the year, DeviceTalks Minnesota.

Use code SAVE15 to save 15%!

REGISTER NOW