Covidien (NYSE:COV) announced today that it enrolled the 1st patients in a pair of clinical trials evaluating the company's neurovascular technologies.
A surgeon in Florida enrolled the 1st patient in Covidien's PREMIER Prospective trial to evaluate Covidien's Pipeline embolization device for treatment of unruptured intracranial aneurysms. That study, conducted under the FDA's investigational device exemption will include up to 141 patients at full enrollment, Covidien said.
The Pipeline device has had a few hiccups, including with a recall announced earlier this year after Covidien reported problems with some of the devices' guidewires. No patients were reportedly injured in associated with that defect, which Covidien discovered through internal testing.
The Pipeline device was also the target of warnings in 2012 when researchers cautioned that the device, although an important option for certain patients with aneurysms, was not without serious risks. Of 56 patients treated in a post-market study, 4 died from brain bleeds within 2 months of implantation, according to the report.
Covidien acquired the Pipeline device when it bought eV3 in the summer of 2010 for $2.6 billion in cash. The Pipeline device won FDA approval in March 2011.Covidien's next-generation Pipeline Flex system just won CE Mark in Europe earlier this year.
The Ireland-based medtech giant also announced the launch of its STRATIS registry for monitoring endovascular stroke devices.
"The STRATIS Registry, a prospective, multi-center, non-randomized, observational registry designed to evaluate the use of Covidien endovascular stroke devices in patients diagnosed with an acute ischemic stroke," the company said. "Covidien's current endovascular stroke device in the U.S. is the Solitaire 2 revascularization device."
A surgeon in Kentucky enrolled the 1st patient in a study slated to include 60 U.S. sites and up to 1,000 patients.
"Covidien continues to design outcomes-based clinical studies to confirm the real world safety and effectiveness of its advanced neurovascular technologies and explore new applications where there is a significant unmet medical need for additional treatment options," neurovascular medical affairs vice president Stacey Pugh said in prepared remarks. "The PREMIER study underscores Covidien's ongoing commitment to improve outcomes, and expand the use of flow diversion technology as a primary treatment for IA patients. We are confident that the STRATIS Registry will generate real world evidence on patients treated with MT and will help improve systems of care, resulting in better patient care and clinical outcomes."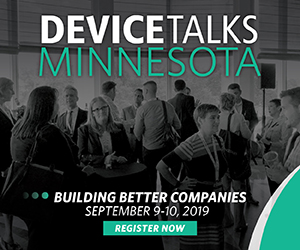 DeviceTalks Minnesota's leadership track is designed to provide attendees with insights on topics such as:
Navigating the path to market
Reimbursement
Winning regulatory approval
Corporate culture
Entering global markets
Leadership
Join industry leaders and medical device professionals at the most awaited medtech conference of the year, DeviceTalks Minnesota.

Use code SAVE15 to save 15%!

REGISTER NOW