Medtronic officials continue to hone their arguments for how the company's capnography and oximetry systems could reduce potentially deadly opioid-induced respiratory compromise.
The medical device giant on Feb. 17 announced preliminary results of its Prodigy study, in which the company's Microstream and Nellcor monitoring technology provided continuous capnography and oximetry for 1,496 patients across 16 sites in the U.S., Europe and Asia.
The study resulted in what Medtronic says is an easy-to-use risk prediction tool. Called the Prodigy score, it helps identify patients on the hospital general care floor who are taking opioid medications and are at high risk of developing a respiratory compromise.
The score takes into account variables including age, gender, sleep disorders, chronic heart failure and opioid naïvety. During the Prodigy study, it identified more than three-fourths of patients with confirmed respiratory depression.
Overall, opioid-induced respiratory depression occurred in nearly half of the patients in the study.
"Clinical evidence shows that acute and unexpected respiratory compromise on the general care floor is increasingly common. Until now, we have not been successful in predicting which patients are at high risk when recovering on the general care floor," said Dr. Ashish Khanna, the primary study investigator and an associate professor of anesthesiology and intensivist at the Wake Forest School of Medicine.
"These data validate an easy-to-use [opioid-induced respiratory depression] risk prediction tool to identify patients at the highest risk and guide early intervention using continuous capnography-based monitoring. Early identification and intervention in these high-risk patients has the potential to improve patient safety and decrease the economic and clinical burden of unplanned ICU admissions," Khanna said in a news release.
Opioid-induced respiratory depression is a "common, costly and deadly but preventable condition," and Medtronic through the Prodigy study is committed to help, said Vafa Jamali, SVP and president of the Medtronic's respiratory, gastrointestinal and informatics business.
"We are encouraged by the data demonstrating the use of the Prodigy OIRD risk prediction tool," Jamali said. "It can help clinicians prioritize resources by identifying those patients at highest risk on the general care floor who should be continuously monitored with capnography and pulse oximetry."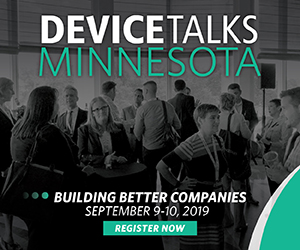 DeviceTalks Minnesota's leadership track is designed to provide attendees with insights on topics such as:
Navigating the path to market
Reimbursement
Winning regulatory approval
Corporate culture
Entering global markets
Leadership
Join industry leaders and medical device professionals at the most awaited medtech conference of the year, DeviceTalks Minnesota.

Use code SAVE15 to save 15%!

REGISTER NOW