The Southeastern Medical Device Association (SEMDA) is making a move to become 1 of the preeminent trade associations supporting the medical device industry.
The non-profit trade association – that supports and promotes medical device companies in the Southeastern United States – recently named former AdvaMed executive Jason Rupp as its first full time executive director.
Rupp most recently served as AdvaMed's vice president of business development and on the board of directors of the AdvaMed conference. Prior to that role, Rupp worked for BIO for 10 years in membership and marketing.
MassDevice.com recently caught up with Rupp to discuss his new role, why he left Washington, D.C. for down south and the opportunity he sees for medical device companies in the Southeastern U.S.
Below is a transcript of our email conversation.
MassDevice: Why did you join SEMDA as its 1st full time executive director?
Jason Rupp: If there is any region in the U.S. that is perfect for a strong regional group, it's the Southeast. SEMDA has been around for 10 years and, without any full-time staff, has become a powerful voice in the Southeast for the medical device innovators, entrepreneurs and investors.
More than 16 percent of the more than $35 billion U.S. medical device manufacturing industry resides in the Southeast. The SEMDA conference, March 31 and April 1 in Atlanta this year, is one of the most influential regional conferences in the country. There are amazing opportunities for medtech manufacturers, service providers and investors including PitchRounds, a program that places early stage device companies in one-on-one sessions with experienced medtech investors.
On a personal note, there are several reasons why I was drawn to this position. I am originally from Tennessee, so I have long desired to move a little closer to home. I've thought for several years that when I decided to leave DC, the perfect next step would be to utilize my experience in Washington to lead a state or regional association. Those opportunities are fairly rare and highly sought after. When I heard that SEMDA was looking to hire an executive director, it was almost too good to be true.
MassDevice: Tell us about your goals for the organization.
Rupp: The ultimate goal of the organization is to be the preeminent resource in the Southeast for the medical device industry. If people think about medtech in the South, I want everyone to think about SEMDA – much the same way we think of AdvaMed as the authority on medtech in Washington.
I am working with the board of directors to create a multi-year strategic plan with 3 main objectives. These are: expand SEMDA's presence throughout the region, add additional services that will benefit our members and the industry in general, and generate original content that is useful and pertinent to the industry in the Southeast.
I believe there is tremendous potential for the industry in the Southeast and am confident that as we implement this plan, we will see great results.
MassDevice: What don't people know about the Southeast and medical technology?
Rupp: There is a tremendous amount of medical device innovation coming out of universities and research universities in the Southeast region and as a result, the startup and early stage medical device community is gaining momentum.
According to a 2014 Battelle report, the growth in Georgia, Florida, South Carolina, and North Carolina is explosive. Between 2007 and 2014, the number of medical devices companies have grown in these states by 64%, 48%, 40%, and 37% respectively, compared to the national average of 12%.
In addition, the large medical device manufacturers are expanding operations in the region to take advantage of lower cost of living and great quality of life. In the 4 states I mentioned earlier, employment grew by an average of 8 percent, compared to the national average of 1.4 percent. Tennessee's employment in medical devices grew by nearly 20 percent.
Looking at these statistics alone, it's apparent that something big is happening down south.
MassDevice: You've worked for 2 of the most prominent industry councils supporting the life sciences industry in AdvaMed and BIO, what have you learned that you will take with you to SEMDA?
Rupp: I can't overstate what a tremendous experience it has been to work for AdvaMed and BIO. In my mind these organizations have no equals in Washington.
I think the biggest lesson I've learned is the persistence and dedication it takes to make an impact. Big changes aren't made overnight, but when you set goals and work hard every day to accomplish those goals, good things will come. Both organizations have rich histories and have provided tremendous benefits to their respective industries, but it's never quick or easy. Good planning and persistence pays off.
The other amazing experience has been to work on two industry-leading conferences. The BIO convention is a spectacle that must be seen to be believed. I was at BIO during the greatest growth period of the convention and the most challenging period during the global economic crash in 2008 – 2009.  The AdvaMed conference is smaller, but the quality is on par with BIO. It is now in a period of growth and I think we'll see that conference explode over the next few years. I've learned that whether you are in a period of growth or crisis, you have to listen to your customers and give them the content and experience that they want. Your brand is everything. Maximize your greatest strengths to the benefit of your constituents and continually learn in order to take advantage of new opportunities.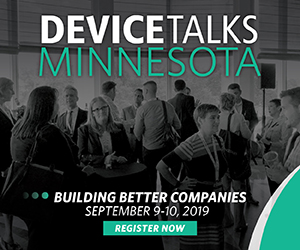 DeviceTalks Minnesota's leadership track is designed to provide attendees with insights on topics such as:
Navigating the path to market
Reimbursement
Winning regulatory approval
Corporate culture
Entering global markets
Leadership
Join industry leaders and medical device professionals at the most awaited medtech conference of the year, DeviceTalks Minnesota.

Use code SAVE15 to save 15%!

REGISTER NOW