Say hello to MassDevice +5, a bite-sized view of the top five medtech stories of the day. This feature of MassDevice.com's coverage highlights our 5 biggest and most influential stories from the day's news to make sure you're up to date on the headlines that continue to shape the medical device industry.
Get this in your inbox everyday by subscribing to our newsletters.

Squid ink could be used as a new imaging method at the dentist to check for gum disease, according to new research from the University of California at San Diego.
Combining squid ink with light and ultrasound, engineers at UCSD have created a new dental imaging method that can painlessly and non-invasively examine a patient's gums. The method is also more comprehensive and more accurate than current methods. Read more
---
PQ Bypass today released subset analysis results from the Detour 1 clinical trial of its Detour system designed to treat long-segment blockages in the femoropopliteal artery, touting a 2% rate of major adverse events and no deaths or amputations at 30 days.
The data was presented today at the Vascular InterVentional Advances conference, the Sunnyvale, Calif.-based company said. Read more
---
Aethlon Medical said today it received an Expedited Access Pathway designation for its Aethlon Hemopurifier designed for treating life-threatening viruses.
The San Diego-based company said its Hemopurifier has been validated to capture a "broad spectrum of viruses that are highly glycosylated", which includes lethal strains of pandemic influenza, mosquito-borne viruses and hemorrhagic viruses with no currently approved treatment. Read more
---
Abbott said today that its FreeStyle Libre continuous glucose monitoring system will be available for reimbursement in the U.K., starting on Nov. 1.
The company's system is designed to automatically read glucose levels through a sensor that's worn on the back of a person's upper arm for up to 14 days, thereby eliminating routine finger sticks. Read more
---
Senseonics said yesterday that it won CE Mark approval in the European Union for its Eversense XL continuous glucose monitor.
The Eversense XL includes a glucose sensor designed to be implanted for 180 days and a removable smart transmitter that links with a mobile app for real-time glucose monitoring. Germantown, Md.-based Senseonics touts the sensor as the world's longest lasting compared with others that require weekly insertions. Read more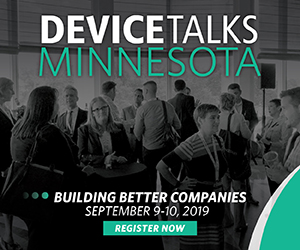 DeviceTalks Minnesota's leadership track is designed to provide attendees with insights on topics such as:
Navigating the path to market
Reimbursement
Winning regulatory approval
Corporate culture
Entering global markets
Leadership
Join industry leaders and medical device professionals at the most awaited medtech conference of the year, DeviceTalks Minnesota.

Use code SAVE15 to save 15%!

REGISTER NOW