Say hello to MassDevice +3, a bite-sized view of the top three medtech stories of the day. This feature of MassDevice.com's coverage highlights our 3 biggest and most influential stories from the day's news to make sure you're up to date on the headlines that continue to shape the medical device industry.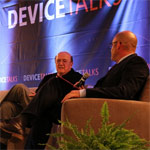 Dr. Manny Villafaña is one of the most successful men in the history of medical innovation, having founded some of the most successful companies in the industry, including Guidant Corp., which was sold to Boston Scientific for more than $27 billion and St. Jude Medical.
His most recent venture, Kips Bay Medical was supposed to be his best work yet. However, problems with the FDA and shortfalls on funding doomed the company, which shut down in September 2015. Recorded live on September 23rd at DeviceTalks Minnesota, just one day after he resigned as CEO of the company, Villafaña discussed how someone who has had so much success deals with the opposite. Read more
---
Life-science companies had another good quarter in Minnesota, and although the 3Q numbers are under the record-breaking investments for 2014, a large number of investments in new companies suggests continued growth.
The LifeScience Alley 3Q investment report, from the Minneapolis-based trade association, finds that health technology firms raised more than $72.6 million in 3Q of 2015. This is considerably less than the $113.6 million in investments in 3Q 2014, but Cheryl Matter, PhD, director of research and intelligence at LifeScience Alley, notes that 2014 was a record-breaking year for investments in life science businesses. Read more
---
Stryker said it won expanded FDA 510(k) clearance for its VertaPlex HV PMMA to treat patients with sacral insufficiency fractures.
Sacral insufficiency fractures are an under diagnosed condition often occurring in the elderly population, the Kalamazoo, Mich.-based company said. Read more