Israel-based Medigus closed a $7 million funding round, raised through sales of shares and options at about 20¢ apiece (NIS 0.72).
The sale, joined by investors in the U.S. as well as Israel, represents about 21% of the company's voting power combined with about 17.3 million 3-year options, according to a press release.
Medigus plans to use the new funds to "expedite Medigus' penetration to the U.S and Europe and to support enrollment of new patients into new and existing medical centers," the company said.
The device maker earlier this year closed an $8 million private placement in support of its SRS Endoscopic system, a minimally invasive treatment for gastroesophageal reflux disease. The SRS Endoscopic device in May 2012 won FDA clearance for the U.S. market.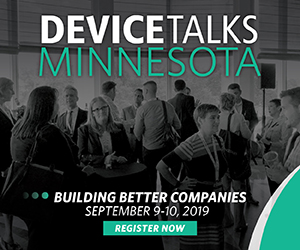 DeviceTalks Minnesota's leadership track is designed to provide attendees with insights on topics such as:
Navigating the path to market
Reimbursement
Winning regulatory approval
Corporate culture
Entering global markets
Leadership
Join industry leaders and medical device professionals at the most awaited medtech conference of the year, DeviceTalks Minnesota.

Use code SAVE15 to save 15%!

REGISTER NOW