First to combine the latest in telemedicine with state-of-the-art autonomous navigation and mobility

SANTA BARBARA, CA (July 24, 2012) – InTouch Health, the leader in acute care remote presence telemedicine, and iRobot (NASDAQ: IRBT), a leader in delivering robotic technology-based solutions, today announced the companies will unveil the breakthrough RP-VITA (Remote Presence Virtual + Independent Telemedicine Assistant) at the InTouch Health 7th Annual Clinical Innovations Forum, to be held July 26 – 28 in Santa Barbara, CA. The RP-VITA is the first remote presence solution for patient care that combines the latest in telemedicine technology from InTouch Health with the latest in autonomous navigation and mobility developed for the iRobot Ava™ mobile robotics platform. For the hospital market, the RP-VITA improves patient care by ensuring the physician is in the right place at the right time and has access to the necessary clinical information to take immediate action.
The RP-VITA is a result of a joint development and licensing agreement the two best-of-breed companies announced a year ago and broadened earlier this year. An expandable telemedicine technology platform, the RP-VITA is the remote presence device component of a total acute care telemedicine solution which includes an integrated ecosystem of technologies and support infrastructure, all part of the InTouch® Telemedicine System. The RP-VITA will be sold by InTouch Health as its new flagship remote presence device. iRobot will continue to explore adjacent market opportunities for robots like the RP-VITA and iRobot Ava.
"The hospital industry is undergoing significant changes, and as we strive to maintain our culture of ensuring an excellent patient experience, we face significant pressure on reducing operating expenses and managing staffing and resources. New technology such as the RP-VITA that dramatically increases the effectiveness and extends the reach of healthcare professionals is required," said Richard Afable, M.D., M.P.H., President of and CEO of Hoag Memorial Hospital Presbyterian. Hoag, Ronald Reagan UCLA Medical Center and Children's Hospital of Orange County (CHOC) participated in clinical validations as part of the U.S. Food and Drug Administration (FDA) review process for the RP-VITA.
The RP‐VITA offers doctors the ability to take command of any clinical, patient or care team management process remotely. It provides a new level of mobility, utility and ease of use for healthcare professionals in the acute care market.
To read the rest of the press release from iRobot, click here.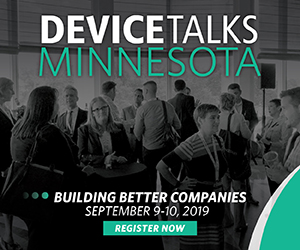 DeviceTalks Minnesota's leadership track is designed to provide attendees with insights on topics such as:
Navigating the path to market
Reimbursement
Winning regulatory approval
Corporate culture
Entering global markets
Leadership
Join industry leaders and medical device professionals at the most awaited medtech conference of the year, DeviceTalks Minnesota.

Use code SAVE15 to save 15%!

REGISTER NOW