Cleveland-area start-up Intelligent Mobile Support is hoping to cash in on the shift to hand-held devices.
Morgan Stanley estimates the number of mobile Internet users to eclipse their desk-bound counterparts within five years. One-year-old Intelligent Mobile markets its mobile platform to medical equipment and device companies so they can deliver training and product support materials to sales representatives in the field.
But John Steidley, the Intelligent Mobile's founder and a former executive vice president of marketing with Philips Healthcare, isn't planning to stop there. He's looking to become the leader in mobile education content for healthcare, selling the company's software to hospitals, medical providers and caregivers.
"It's a very quick way to educate people who are on-the-go using mobile technology," said Steidley, who estimates Intelligent Mobile's potential market at more than $1 billion.
Designed for busy reps who get their information in two or three-minute chunks, Intelligent Mobile's platform has three key components: educational content, support that connects users to help via a call, text message or e-mail and a social networking feature that allows users to rate and discuss the educational content.
In making his case for his company's market opportunity, Steidley cites a litany of statistics that would make most sales executives' faces turn red. In general, sales reps spend too much time looking for information, often don't know the information they need when they're facing customers and lose sales because of it. Intelligent Mobile exists to solve those problems.
Despite being in business for just a year and having no sales and marketing staff aside from Steidley, the company has picked up six customers, including Calgary-based Imaging Dynamics Co. The medical imaging technology firm sells its products through a network of independent distributors who often market thousands of products from hundreds of manufacturers, making it difficult for any one product to stand out in a sales rep's mind.
Using Intelligent Mobile's mobile platform to communicate product information is a "unique and novel way" to reach distributors and technical support staff — and it beats e-mail that often goes unread, according to Tom Boon, Imaging Dynamics' CEO.
"This gives us a competitive advantage to differentiate ourselves within the [distributor] channel," Boon said.
Also appealing to Boon was Steidley's knowledge of the medical imaging market — thanks to his time with Philips.
"There are a lot of people developing technology who don't know anything about the market," Boon said.
If Steidley can get some investment dollars flowing his way, he should have the opportunity to hire some other sales people with knowledge of the healthcare market. Steidley, who says he's "bootstrapped" the company so far, is looking for an investment of about $500,000, an amount that would enable him to bring aboard a small sales staff.
That Steidley's company was created to take advantage of what a notable Morgan Stanley analyst calls the fifth major technology cycle of the past half-century — the continuing migration to the mobile web — should only help his cause.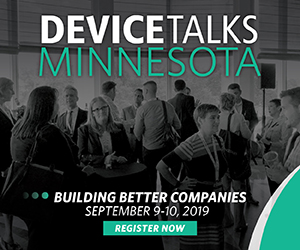 DeviceTalks Minnesota's leadership track is designed to provide attendees with insights on topics such as:
Navigating the path to market
Reimbursement
Winning regulatory approval
Corporate culture
Entering global markets
Leadership
Join industry leaders and medical device professionals at the most awaited medtech conference of the year, DeviceTalks Minnesota.

Use code SAVE15 to save 15%!

REGISTER NOW