Insightec said today it closed a $150 million Series E private equity round of financing with plans to use funds to support marketing, commercialization and further development of its Exablate Neuro platform.
The round was led by Koch Disruptive Technologies subsidiary Koch Industries, who invested a total of $100 million during the round, the Israel-based company said.
The company's flagship Exablate Neuro device, which won FDA approval last July for treating essential tremor, uses high-intensity, focused ultrasound to thermally ablate targeted tissue, guided by continuous magnetic resonance imaging; the procedure can be performed non-invasively through an intact skull.
Proceeds from the round are slated to support marketing and commercialization for approved indications for its Exablate Neuro as well as continuing research and development exploring new brain indications for the device, including Parkinson's disease, Alzheimer's disease and cancer.
"Insightec is committed to driving global adoption of our existing focused ultrasound treatments, while leading ground-breaking research to apply our proprietary technology in novel ways. With this substantial investment, we plan to ultimately leverage our incisionless solutions to positively transform the lives of millions of patients," CEO & board chair Dr. Maurice Ferré said in a prepared statement.
Earlier this week, Insightec said it is partnering with the Virginia Tech Carilion Research Institute as it looks to develop treatments for brain disorders utilizing the company's Exablate Neuro system.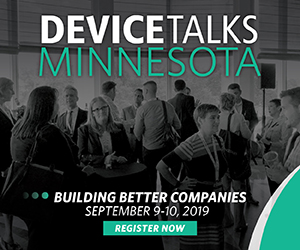 DeviceTalks Minnesota's leadership track is designed to provide attendees with insights on topics such as:
Navigating the path to market
Reimbursement
Winning regulatory approval
Corporate culture
Entering global markets
Leadership
Join industry leaders and medical device professionals at the most awaited medtech conference of the year, DeviceTalks Minnesota.

Use code SAVE15 to save 15%!

REGISTER NOW