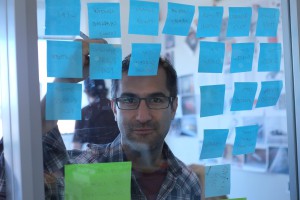 "What is the purpose of healthcare?" To a room full of doctors, nurses and other healthcare experts at Boston Children's Hospital, it was a startling question—justifying why they save lives was not part of their everyday experience.
"It may seem like a crazy question but it's important to ask why we do what we do," said Rodrigo Martinez, life sciences chief strategist from the international design firm IDEO, during a monthly Innovator's Forum at the hospital. "Is it to care? Is it for us to feel better? Is it for us to have less emotional trauma in our lives?"
One audience member admitted that a lot of his time in the Emergency Department is spent reporting what he does. "During an eight hour shift, I may spend a significant amount of time recording all the things I've done to help a patient, but that's time I'm not with the patient." Martinez nodded.
Pacing around the small conference room, Martinez said we often don't ask ourselves why we do certain things–even though the answer determines how we design everything from our careers to what we have for breakfast.
We're all designers, he told the audience.
He showed a photo of a woman hunched over her breakfast table, leafing through a packet of medical material after she'd just learned she has diabetes. She looked confused and overwhelmed.
"This is a missed opportunity," Martinez said. He pointed to the box's disposable packaging and the stack of cold, clinical-looking papers – and declared that the box his Nike running wristband came in was sturdier and conveyed a greater sense of value than this diabetes kit.
Or take the hospital bed. In designing this medical staple, we need to think about every person who comes into contact with that bed—not just the patient and the doctor, Martinez argued. We also need to consider the person who will clean the bed and the family members that will sit on it.
At a hospital that treats children, there are myriad opportunities for design innovation. One such innovation at Boston Children's was in the Emergency Department, where Debra Weiner, MD realized physicians and nurses needed real-time information while on the go.
Doctors were frequently waiting for specialist advice on multiple patients, while nurses usually had to track down physicians if new lab results came in or if a bed became available. All this meant that patients waiting around in the ED had to wait even longer for their providers to retrieve and act on the information.
So Weiner developed an iPhone app called BEAPPER that allows nurses and physicians to send short Twitter-like messages within the Emergency Department. Now physicians are alerted when new patients arrive, when new beds become available, if a lab result comes back and physicians can see a patient's full profile right on their iPhone.
By figuring out kids' needs we can start to walk in their shoes and envision small changes that will make health interventions more effective and even transformative. It all starts with patient-centered care and a keen eye for small observations that proffer ground-breaking insights.