The FDA's Circulatory System Devices Panel voted on Dec. 5 to reduce the regulatory burden for intra-aortic balloon pump (IABP) devices to Class II (special controls) for certain indications, while keeping the more stringent Class III premarket approval requirement in place for a few uses.
IABPs consist of an inflatable balloon, which is placed in the aorta to improve cardiovascular functioning during certain life-threatening emergencies, and a control system for regulating the inflation and deflation of the balloon, by FDA's definition. The control system, which monitors and is synchronized with the electrocardiogram, provides a means for setting the inflation and deflation of the balloon with the cardiac cycle.
IABPs, manufactured by Maquet and Teleflex (NYSE:TFX), are one of the remaining pre-amendment Class III medical devices currently cleared for marketing through the 510(k) pathway. FDA in 2009 began an inquiry to determine whether these devices should remain as Class III and require a PMA or be down-classified into Class I (general controls) or Class II (special controls).
A majority of panelists at the meeting in Gaithersburg, Md., voted to retain a Class III designation for IABPs when used to treat septic shock and intraoperative pulsatile flow generation, citing inadequate data to support these uses, but to down-classify IABPs to Class II for indications including acute coronary syndrome, complications of heart failure, and for cardiac and non-cardiac surgery with some clarifying language for use in non-cardiac surgery.
The panel's recommendation is good news for IABP market leader Maquet, but may not do much to change the company's market share, according to a spokesman for the company.
"What is important to highlight is that the panel was able to look beyond the results of the recent data that has been published, looking at specifically the action of the device and not particularly if an endpoint has been met statistically or not," chief medical officer Dr. Luca Lombardi told MassDevice.com. Maquet sells 140,000 IABPs annually, he noted.
"In the IABP space there is almost no other competition," he pointed out. "Teleflex is the only other company selling IABPs. Honestly, I don't think it will change anything from the competition standpoint. Certainly for us because of what we've done for advancing this therapy, I think that what was said about how we were able to evolve the therapy made a huge difference in safety and effectiveness of the device. We started with a huge catheter and now we're down to a 7 French Catheter, which made a huge difference in terms of how many times you can apply this therapy and how safely you can apply this therapy."
Nuts and Bolts Of Panel Recommendations
Panelists unanimously agreed that IABP devices are life-supporting and recommended a Class II designation for treatment of acute coronary syndrome, further recommending, with the exception of 1 vote, that they receive a Class II designation for cardiac and non-cardiac surgery. The panel also unanimously recommended a Class II designation for complications of heart failure of both ischemic and non-ischemic etiologies, and were unanimous that IABPs retain the more stringent Class III designation for treatment of septic shock and intraoperative pulsatile flow generation.
"After reviewing available evidence in the context of broad clinical experience and understanding some of the recent equivocal data there remains a majority feeling by this panel that there is sufficient evidence to support the safety and effectiveness of intra-aortic balloon devices for the indications listed but [we] request that the specific indication of non-cardiac surgery be further developed to specifically address the necessity for hemodynamic support," concluded panel chair Dr. Clyde Yancy of the Feinberg School of Medicine at Northwestern University in Chicago, Ill.
FDA has identified the following risks to health for IABPs: cardiac arrhythmias, ineffective cardiac assistance (poor augmentation), thromboembolism, aortic rupture or dissection, limb ischemia, gas embolism, hemolysis, infection, insertion site bleeding, leaks of the membrane or catheter, balloon entrapment, insertion difficulty/inability to insert the IAB, failure of the balloon to unwrap, malposition of the balloon in the patient, vessel occlusion resulting in infarction to an organ (including paraplegia), thrombocytopenia and software malfunction.
Panelists generally agreed with FDA's risk assessment, "with the following edits: we would suggest including vessel occlusion resulting in ischemia or infarction. We would suggest including the following previously not articulated risk that is compartment syndrome, stroke and death, and the rest of it is acceptable," Yancy said.
The federal watchdog agency has suggested a number of special controls to mitigate the above risks for acute coronary syndrome, cardiac and non-cardiac surgery and complications of heart failure, including: appropriate analysis and non-clinical testing to validate electromagnetic compatibility and electrical safety; appropriate software verification, validation and hazard analysis; biocompatibility demonstration of the device; sterility and shelf-life testing of sterility of patient-contacting components; non-clinical performance evaluation of the device to demonstrate mechanical integrity, durability and reliability; and labeling to include a detailed summary of device-related and procedure-related  complications related to device use, and appropriate warnings and contraindications.
Panelists agreed the special controls listed by FDA are reasonable, with 1 exception: that labeling be expanded to include clinical trial results and any statements that also address complications, warnings and contraindications.
"There will be those who will look at what we did today and wonder how we made some of our decisions in the face of recent clinical trial data that verify efficacy and there will be those that will say that these are invasive devices and there are some complications, but I do think that this panel did really great work today," Yancy noted. "I think this panel made it clear that we should begin to establish some levels of certainty about the effect or the expectation of these devices and set expectations accordingly in the context of the patients that are receiving the device, so I think we moved the clinical practice of cardiovascular medicine forward today."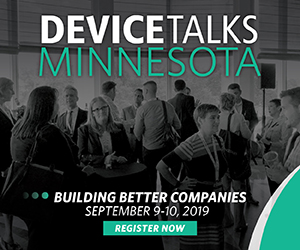 DeviceTalks Minnesota's leadership track is designed to provide attendees with insights on topics such as:
Navigating the path to market
Reimbursement
Winning regulatory approval
Corporate culture
Entering global markets
Leadership
Join industry leaders and medical device professionals at the most awaited medtech conference of the year, DeviceTalks Minnesota.

Use code SAVE15 to save 15%!

REGISTER NOW