An FDA advisory panel recommended that the federal watchdog agency grant a humanitarian device exemption to Second Sight Medical Products' Argus II retinal prosthesis system, designed for patients who are profoundly blind due to a rare condition called retinitis pigmentosa.
Patients with retinitis pigmentosa have either bare light perception or none at all. There is currently no cure and no available treatment for the rare condition that's diagnosed about 250 times each year.
The Ophthalmic Devices Panel's recommendation, which the FDA is not obliged to follow, came with a caveat: Second Sight should be compelled to run a rigorous post-approval study because of the significant risks posed by the device.
A majority of panelists, 17-2, agreed that Argus II demonstrated a reasonable assurance of safety even though different versions of two device configurations were implanted in 30 subjects in the clinical trial; no subjects were implanted with the version of the device proposed for marketing because modifications were made to the implant's application specific circuit chip, suture tab and carrier frequency; the testing was non-randomized; evaluators were unmasked; numerous modifications were made to the study protocol during the course of study; and there were a number of protocol deviations.
Indiana School of Optometry's William Swanson cast dissenting votes on the questions of safety and reasonable assurance of probable benefit, though he agreed the probable benefits outweighed the risks.
"There are people who are not going to benefit; we don't know who they are. There are people who are going to lose their eye, there are some people who are going to lose 2 eyes," Swanson said. "So I really couldn't say it was safe and I couldn't say it was effective, but I do feel that for the patient population at risk, there is a possible benefit, even though it's not for everybody."
Swanson suggested that the patient brochure not oversell Argus II and that it more directly inform patients of the adverse events experienced by patients in the clinical trial.
"I think it's important to emphasize that this will provide low vision rather than some, partial vision," said Alvin Eisner of Northwest Sarcoma Foundation. "The expectations have to be realistic."
The data show that with the Argus II "mobility is not really clear, but orientation seems to be something that is the greatest benefit … and as we've heard, orientation (knowing where you and others are in space) is extremely important, even if it doesn't help you walk," Swanson noted.
The panel agreed on a 5-to-10-year post-approval study including both follow-up of patients in whom the device has already been implanted and a well-controlled study of a new group of patients. Safety, stability and utility topped the list of concerns.
Panelists asked that the post-approval study include a close assessment of adverse events, reliability of the Argus II device, visual function measures and some quality assurance controls related to measurements of those assessments.
"We really need to have a careful recording of what the adverse events truly are, because the evaluation of the adverse events, whether they are serious or not serious, was sort of somewhat flippantly done in the past," stressed Saint Louis University School of Medicine's Dr. Stephen Feman. "There was a patient, for example, recorded who went blind. That was not listed as a serious adverse event because the patient went blind in both eyes … yet some might say that's a serious adverse event. Maybe the intervention caused the blindness in both eyes."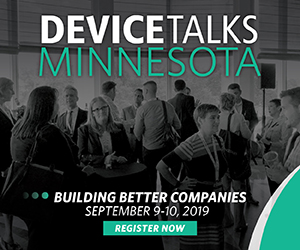 DeviceTalks Minnesota's leadership track is designed to provide attendees with insights on topics such as:
Navigating the path to market
Reimbursement
Winning regulatory approval
Corporate culture
Entering global markets
Leadership
Join industry leaders and medical device professionals at the most awaited medtech conference of the year, DeviceTalks Minnesota.

Use code SAVE15 to save 15%!

REGISTER NOW