Cook Medical said today that the FDA closed out a 2014 warning letter it sent to the company over quality system issues with its Bloomington, Ind.-based manufacturing facilities.
The company touted the closure of the warning letter for the plant, which makes vascular implants, intravascular catheters and related systems, and said that it was the result of four years of work to correct and improve its quality systems.
The inspections, performed between 2012 and 2014, turned up issues with how Cook accounts for products that are scrapped during the manufacturing process. In one example flagged during its inspections, the federal watchdog identified 735,385 nonconformities "across all device families," according to the original warning letter.
The facility reportedly produces in the tens of millions of units a year, a company representative told MassDevice.com in 2014, noting that the flagged devices were "nonconformance's identified through the quality system."
Cook Medical said that its efforts to correct the noted issues included re-aligning the company's businesses into two divisions, vascular and medsurg, as well as upgrading its IT infrastructure and improving and accelerating its product development process. The company said it also recently purchased a million-square-foot abandoned factory in Bloomington as it looks to further redesign its manufacturing process.
"Receiving critical feedback from the FDA in 2014 was tough, but beneficial. After a lot of thoughtful discussion, our leadership team decided this feedback was an opportunity to slow down and take a hard look at our company. As a result, we established a plan to not only address the issues in the warning letter, but transform our entire company," Cook Group prez Pete Yonkman said in a press release. "As we've focused on resolving the warning letter and improving our company over the last four years, we have, at times, disappointed our customers. For example, adding new systems slowed our production capabilities, and we experienced shipment delays. We aren't finished yet, but our teams have worked hard to improve our delivery times, and we thank our customers for sticking with us. One of the benefits of being a family-owned, privately held company is that we were able to take the long view and invest in our company and our employees. We still have work to do, but we are proud of the progress our employees have made to get us to this important milestone. Our transformation is making us a better, stronger company so that we can continue to fulfill our mission of improving the lives of patients around the world."
In July, Cook Medical voiced concerns that the Brexit may affect its ability to export products from Ireland to the UK after 2020, according to a new Irish Times report.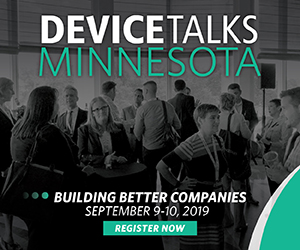 DeviceTalks Minnesota's leadership track is designed to provide attendees with insights on topics such as:
Navigating the path to market
Reimbursement
Winning regulatory approval
Corporate culture
Entering global markets
Leadership
Join industry leaders and medical device professionals at the most awaited medtech conference of the year, DeviceTalks Minnesota.

Use code SAVE15 to save 15%!

REGISTER NOW