Endo Health Solutions (NSDQ:ENDP) reported 2nd quarter earnings today that beat expectations for revenue and earnings per share by a fair margin while continuing its acquisition plans for Par Pharmaceuticals.
Endo International reported losses of $250.5 million, or $1.35 per share, on sales of $735.2 million for the 3 months ended June 30.
Adjusted to exclude 1-time items, earnings per share were $1.20, beating analyst expectations by 18¢. Adjusted profits were up a healthy 29.5% from last year as well, and EPS growth clocked in at 13.2%
The company also beat revenue expectations by nearly $8 million, though shares have been sluggish to respond, rising a meager 0.39% as of mid-day trading today.
"Our diversified business delivered strong financial results for the quarter and demonstrated the value that we expect to create through the continued execution of our strategy. We are close to completing the integration planning for our acquisition of Par and we remain excited by the strategic expansion of our product portfolio, R&D pipeline and long-term growth profile that the Par assets and Par talent joining Endo are expected to help provide. Looking ahead to the second half of 2015 and beyond, we are focused on accelerating growth in our current U.S. branded pharmaceuticals portfolio and continue to expect that our strategic M&A and pipeline development efforts will yield future growth drivers," Endo CEO Rajiv De Silva said in a prepared statement.
Endo reaffirmed and slightly adjusted its guidance for the rest of the year, expecting revenue between $2.9 and $3 billion and EPS between $1.42 and $1.62, adjusted down from the range of $1.70 to $1.90.
Last week, Endo announced it is selling off certain assets from its South Africa-based Litha Healthcare subsidiary. The assets, a portfolio of device, vaccine and non-core products, are being acquired by a consortium comprised of Westrate Trade, Invest Proprietary Limited and Immunotek Limited, according to the company.
Also announced last week, Boston Scientific (NYSE:BSX) closed its $1.6 billion acquisition of Endo's American Medical Systems urology portfolio, including its men's health and prostate health businesses.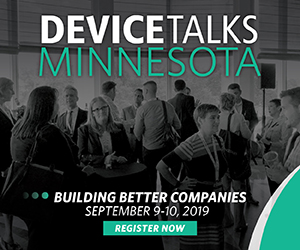 DeviceTalks Minnesota's leadership track is designed to provide attendees with insights on topics such as:
Navigating the path to market
Reimbursement
Winning regulatory approval
Corporate culture
Entering global markets
Leadership
Join industry leaders and medical device professionals at the most awaited medtech conference of the year, DeviceTalks Minnesota.

Use code SAVE15 to save 15%!

REGISTER NOW