ElectroCore yesterday announced a number of workforce and resource adjustments its undertaking as it looks to focus on "currently available and near-term revenue opportunities and on clinical programs specifically designed to expand the gammaCore product labeling."
Adjustments are being made to its field sales force and clinical operations, the Basking Ridge, N.J.-based company said, as it focuses its resources on "high-value geographic and other sales territories where the current prescriber base and regional payer coverage are the most concentrated." This includes continuing its pursuit of relationships with pharmacy benefit managers, ElectroCore said.
The company's clinical development program will also be scaled back as part of the plan, the company said, including postponing several planned studies. Medical affairs activities will also be reduced, ElectroCore added.
ElectroCore said that it expects the plan to be fully implemented by the end of the second quarter of 2019, and that it is hopeful that beginning in the third quarter of 2019, its average quarterly cash burn will be less than $7 million through to 2020, down from previously reported expected burn of $12 million per quarter.
The company said that it expects to pay approximately $350,000 to implement the plan, with its second quarter cash burn expected to be between $11 million and $11.5 million.
"Although we are cognizant of the pain and disappointment that may be experienced by those employees who will be separating from the company as we reduce our workforce from 91 to 55 positions under this program, the Board and management believe the adjustments to the expenditure of our resources are necessary as we respond to evolving market forces in the headache field. As was shared on our most recent earnings call, there are several promising commercial channels capable of providing significant sales acceleration. In the near term, we intend to sharpen our focus on opportunities in the Veterans Administration and Department of Defense and areas of the U.S. where reimbursement by regional payers has already been gained. We will also pursue opportunities to expand our reach through partnerships into new areas of medicine where migraine and cluster headaches have a high prevalence, as well as monetizing the investments we have made in the United Kingdom. As additional payers join the ranks of healthcare organizations currently reimbursing for gammaCore™ therapy, we intend to deploy additional field force resources and expand our geographic reach but will do so on a measured basis. We remain confident in the significant market opportunity that exists for gammaCore, both in the U.S. and globally, and we will continue to work to make this technology available to the broadest possible patient population. I would like to personally express my appreciation to each of the employees impacted by this decision for their commitment and dedication to the development and commercialization of gammaCore," CEO Frank Amato said in a press release.
In March, ElectroCore said that its CFO Glenn Vraniak resigned, effective April 1, replaced by Cellectar Biosciences finance chief Brian Posner.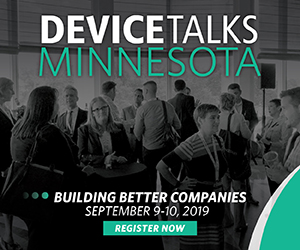 DeviceTalks Minnesota's leadership track is designed to provide attendees with insights on topics such as:
Navigating the path to market
Reimbursement
Winning regulatory approval
Corporate culture
Entering global markets
Leadership
Join industry leaders and medical device professionals at the most awaited medtech conference of the year, DeviceTalks Minnesota.

Use code SAVE15 to save 15%!

REGISTER NOW