The Dow Jones Industrial Average, a longtime bellwether for the U.S. economy, flirted yesterday with a high-water mark not seen since Lehman Brothers' collapse triggered an economic implosion more than 4 years ago.
The Dow reached 13,005.04 at one point yesterday, before subsiding to close at 12,965.69 yesterday. It's the first time the index has climbed that high since May 2008.
Investors were heartened by a deal struck in the European Union to resolve Greece's debt crisis and by positive earnings results from a pair of American stalwarts.
Home Depot (NYSE:HD) posted 4th-quarter profits of $774 million, up 32%, and Kraft (NYSE:KFT) reported 4th-quarter net income of $830 million, up 54%.
The Dow opened today at 12,966.22 and was at 12,952.29 as of about 1:20 p.m., down 0.1% on the day.
Teleflex inks PCA pump GPO deal

Teleflex (NYSE:TFX)announced a four-year contract with the Asklepios Hospital Group for the ambIT PCA pump, which is distributed by Teleflex. The Asklepios Hospital Group includes more than 100 health facilities with more than 18,500 beds. Read more
Analysts' ups and downs
Dentsply (NSDQ:XRAY): Barrington Research maintains $45 price target, rating.
Medtronic (NYSE:MDT): Credit Suisse downgrades from "outperform" to "neutral," sets $43 price target; Deutsche Bank downgrades from "buy" to "hold," sets $41 price target.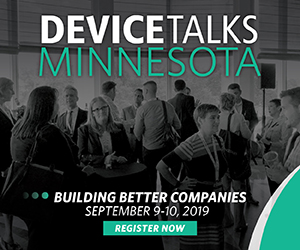 DeviceTalks Minnesota's leadership track is designed to provide attendees with insights on topics such as:
Navigating the path to market
Reimbursement
Winning regulatory approval
Corporate culture
Entering global markets
Leadership
Join industry leaders and medical device professionals at the most awaited medtech conference of the year, DeviceTalks Minnesota.

Use code SAVE15 to save 15%!

REGISTER NOW