MASSDEVICE ON CALL — Most hospitals touting the superiority of their robotic surgery systems do so without evidence, according to a new study from Johns Hopkins University School of Medicine.
The rapid increase of robots in the operating room has challengers questioning the adoption of the costly technology without evidence that the new systems represent an improvement over existing methods.
Advocates of robotic surgery claim the machines provide a clearer view and enable more precise movements, but health outcomes are comparable to other approaches.
Johns Hopkins researchers looked at 400 hospital websites and found that most overstate claims of robotic success and use industry-provided content to promote the devices, the Buffalo News reported.
"Either a technology works or it doesn't, and I believe the data eventually will show the robot is good. The marketing has taken away from that," Dr. Khurshid Guru, director of robotic surgery at Roswell Park Cancer Institute, told the paper.
Robotic surgery systems represent a flourishing market. Intuitive Surgical Inc. (NSDQ:ISRG), which sells the da Vinci surgical system, posted double-digit increases in profits and sales for 2010,
Challengers argue that there needs to be more evidence that the robots are worth the expense. The da Vinci system sells for $2.5 million and requires annual maintenance costs of between $100,000 and $130,000, as well as about $2,000 for single-use tools for each procedure, the paper reported.
Victim of chimpanzee attack gets new face
A woman mauled by a chimpanzee in Connecticut in 2009 received a rare face transplant during a 20-hour surgery that gave her a new forehead, nasal area, lips, facial muscles and nerves from a donor.
Surgeons also attempted a double-hand transplant, but the hands had to be removed after they "failed to thrive," the Wall Street Journal's Health Blog reported. Another attempt will be possible when new donor hands are found.
Gentler ventilator use can help infants breathe
New guidelines that recommend reduced use of mechanical ventilation with premature infants may improve their health outcomes, according to researchers at Children's Hospital Boston.
Premature babies are often placed immediately on a mechanical ventilator with supplemental oxygen to help their immature lungs breathe, but the excess pressure can lead to inflammation, scarring and a disabling lung disease called bronchopulmonary dysplasia.
"While they are sometimes necessary, both supplemental oxygen and mechanical ventilation are essentially toxic to premature babies' lungs," said Dr. Bernadette Levesque, lead researcher in the study.
The study centered on guidelines intended to encourage use of a "bubble" continuous positive airway pressure system rather than a mechanical ventilator, and limited exposure to supplemental oxygen.
The premature infants in the study were less likely to need intubation or mechanical ventilation and needed fewer days on supplemental oxygen overall. The researchers also reported reduced rates of low blood pressure.
The team also noted reduced equipment and medication costs when using the new guidelines.
Startups aren't so eager to sell
Despite a swarm of buyers, private business holders aren't so eager to be bought up, according to an independent survey conducted by Pepperdine University.
Business owners cited changing government regulation and taxes, economic uncertainty and access to capital as the top three concerns when considering putting a company up for sale, Venture Beat reported.
Private equity firms have nearly $500 billion in excess capital to put toward acquisitions and an increasing number are using partnerships with industry executives to source deals.
Artificial pancreases could make life easer for type 1 diabetics
A new artificial pancreas under development at
Rensselaer Polytechnic Institute promises constant blood sugar monitoring and customized insulin delivery.
The device forms a closed-loop system that is constantly measuring blood sugar levels and adjusting the amount of insulin delivered based on the readings, Endocrine Web reported.
The artificial pancreas also allows the user to enter information about recently eaten food to allow the pancreas to anticipate a blood sugar spike and adjust medication preemptively.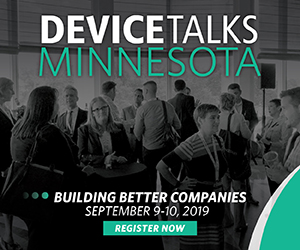 DeviceTalks Minnesota's leadership track is designed to provide attendees with insights on topics such as:
Navigating the path to market
Reimbursement
Winning regulatory approval
Corporate culture
Entering global markets
Leadership
Join industry leaders and medical device professionals at the most awaited medtech conference of the year, DeviceTalks Minnesota.

Use code SAVE15 to save 15%!

REGISTER NOW