Dentsply Sirona (NSDQ:XRAY) today announced restructuring plans that will eliminate 6% to 8% of its workforce as the company looks to reduce costs alongside releasing third quarter earnings that missed Wall Street expectations.
The York, Penn.-based company said that its management team has "conducted an extensive diagnosis of the market" over the past six months and developed a plan to reduce costs, alongside third-party advisors, while remaining "optimistic about the underlying dental industry."
The company hopes the plan will achieve annualized top-line growth of 3% to 4% and adjusted operating income margin of 20% by 2020, while reducing annual costs by $200 million to $225 million by 2021.
The plan includes a 6% to 8% reduction in the company's global workforce, according to its earnings report, as well as "streamlining the organization and consolidating functions."
"We fully realize that our recent performance has been unacceptable and that is why we are taking aggressive action to grow revenues, expand margins and simplify the organization.  During the implementation of the program, we have prioritized maintaining the company's revenue stream and serving our customers, including leveraging our existing infrastructure and outside resources to coordinate our activities.  We are dedicated to supporting our talented teams through this important and much-needed transformation. Our path forward will require making difficult decisions, but nevertheless, we are confident that the steps announced today will ensure growth over the long-term, and drive significant value for our shareholders," CEO Don Casey said in a press release.
The York, Penn.-based company posted profits of $28 million, or 13¢ per share, on sales of $928.4 million for the three months ended September 30, seeing profits shrink 69.1% while sales shrunk 8% compared with the same period during the previous year. Adjusted to exclude one-time items, earnings per share were 38¢, well behind the 70¢ the company reported during last years third quarter.
The company narrowly missed the $954 million sales consensus on Wall Street.
Dentsply Sirona lowered its guidance for the year, now expecting to see adjusted EPS of slightly below or at the low of of $2 to $2.15 per share.
Shares in the company rose slightly today, up 0.8% closing at $36.80. Shares have fallen approximately 4.9% in after hours trading, at $35 as of 4:49 p.m. EST.
In August, Dentsply Sirona saw shares fall after it posted second quarter earnings results that met expectations on Wall Street but showed growing losses.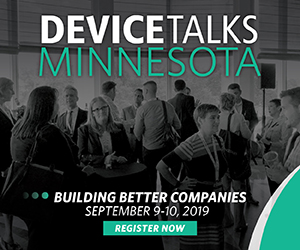 DeviceTalks Minnesota's leadership track is designed to provide attendees with insights on topics such as:
Navigating the path to market
Reimbursement
Winning regulatory approval
Corporate culture
Entering global markets
Leadership
Join industry leaders and medical device professionals at the most awaited medtech conference of the year, DeviceTalks Minnesota.

Use code SAVE15 to save 15%!

REGISTER NOW