MASSDEVICE ON CALL — Congressmen Rep. Edward Markey (D-Mass.) and Sen. Jeff Merkely (D-Ore.) called on the FDA to "overhaul and streamline" its recalls and 510(k) premarket notification database.
The legislators want the FDA to ensure that the data is "publicly available and easily searchable" so that it better serves the needs of medical device reviewers, manufacturers and patients, according to a letter they jointly issued to FDA medical devices director Dr. Jeffrey Shuren.
"Current law requires FDA to clear a device shown to be substantially equivalent to a predicate, even in cases where the new product contains the same flaws as an earlier model," the pair wrote. "Database improvements would enhance the transparency of the 510(k) process and help manufacturers avoid using recalled devices as predicates that may put their own devices at risk for future enforcement action."
Ultimately the lawmakers hope to see the FDA gain the authority to reject medical devices which rely on recalled devices as predicates, but in the meantime hope that making recall data more accessible and transparent will "enhance awareness among the public and medical professionals of the potential dangers of medical devices that are based on flawed predicates," according to the letter.
Federal circuit deems genes patentable
A Federal Circuit judge maintained a prior ruling that isolated genes can be patented, upholding Myriad Genetics' win in light of the Supreme Court's recent decision.

Read more
Ex-investigator accuses American Heart Assn. of violating disclosure rules in PFO closure trial
Former "Migraine Intervention with Starflex Technology" clinical trial investigator Dr. Peter Wilmshurst accused the American Heart Assn. and the journal Circulation of filing to follow their own rules on disclosing conflicts of interest in publishing the results of the trial, which investigated use of a patent foramen ovale closure device.
Read more
Dendreon chairman and former Scios CEO Richard Brewer dies at 61
This week Richard Brewer, chairman of cancer immunotherapy products maker Dendreon and former CEO of biopharmaceutical company Scios died from multiple myeloma at the age of 61.
Read more
New prosthetics merge with smartphones to make life easier for amputees
New prosthetic devices may not need a visit to the doctors office to perform routine adjustments that are frequently necessary to make life easier and more comfortable for the wearers, featuring new software that makes some basic adjustments automatically or allowing patients to manipulate the device with a smartphone app.
Read more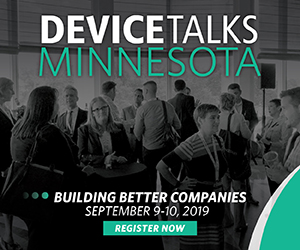 DeviceTalks Minnesota's leadership track is designed to provide attendees with insights on topics such as:
Navigating the path to market
Reimbursement
Winning regulatory approval
Corporate culture
Entering global markets
Leadership
Join industry leaders and medical device professionals at the most awaited medtech conference of the year, DeviceTalks Minnesota.

Use code SAVE15 to save 15%!

REGISTER NOW