By Tom Ulrich
When teenagers come to an emergency department expressing suicidal thoughts or after a suicide attempt, the accepted model of care is to evaluate, then either send them home or keep them in the ED until an inpatient psychiatric bed becomes available.
The wait for an inpatient bed can take hours, even days. No psychiatric treatment is given. The child is simply "boarded" – kept waiting in the ED under supervision, a practice that can increase distress for the child and family, while taking ED beds out of circulation for other acutely ill patients.
"Generally speaking, there is no history of providing psychiatric treatment in the emergency room setting," says Elizabeth Wharff, director of the Emergency Psychiatry Service at Children's Hospital Boston. "Since the late 1990s, we have seen a significant increase in the number of cases where an adolescent comes to our emergency room with suicidality and needs inpatient care, but there are no available psychiatric beds anywhere in the area."
Recognizing that a breakdown in child-family communication is often the real trigger for suicidal behavior, and observing that working with these families while they are in crisis can help teens come to a point where they are no longer suicidal and safe to go home, Wharff's team has piloted a model of what it calls family-based crisis intervention, or FBCI. Carried out in the ED by a trained psychiatric clinician, FBCI aims to help the family learn how to talk to and support their teenager during a crisis, while reinforcing for teens that they can count on their parents so that they feel safe going home.
"FBCI is grounded in the belief that children and adolescents are better off at home with their families," says Katherine Ginnis, the service's associate director and one of Wharff's team members. "We try to provide the teens with excellent, intensive family-based therapy in the ED at the time of crisis, and give their natural supports – Mom and Dad, other family members, outpatient caregivers, etc. – the tools and opportunity to take the lead and provide the care that we know they can."
The intervention – which takes, on average, an hour to an hour and a half – centers on establishing a crisis narrative: a joint story of what has been happening that takes the teen's and parents' points of view into account, based on individual interviews and a family meeting. The process involves therapy and education for children and parents alike, as well as discussions about safety and treatment planning.
An adolescent's mental state can change very quickly, even in the time frame of the intervention, Ginnis explains. "Their mental status actually shifts with the work that we do in the ER. In the vast majority of instances where we have done this, the child no longer is suicidal after the family meeting, once they understand that their parents are able to be there for them."
Wharff and her team recently conducted a 100-family pilot study of FBCI. "Families loved it," she says. "And many, many more teens went home than previously. When we compared these patients to a matched sample of similar patients from the year before, we saw that the psychiatric hospitalization rate declined from 55 to 36 percent." With the support of a Patient Services Research Grant, they are launching a randomized clinical trial that they hope will establish FBCI as a new standard for emergency psychiatric care.
Why is this kind of care not generally offered? "Simply because it's not the way care has been provided in the past," Wharff responds. "We have yet to find a similar program anywhere else in the country. There is a movement towards this kind of care model – we see evidence of that interest in the literature – but to the best of our knowledge Children's is the only place that actually offers it."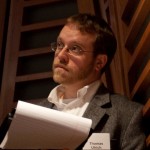 Tom Ulrich is a senior science writer in the Children's Hospital Boston Department of Public Affairs, covering laboratory and clinical research innovations across the hospital. Over the last ten years, Tom has parlayed his curiosity about science and passion for science writing and communications into a number of roles, including development writer at Dana-Farber Cancer Institute, marketing writer at AIR Worldwide, and editorial & account director at Feinstein Kean Healthcare. Most recently, he was the communications manager at Harvard Catalyst | The Harvard Clinical and Translational Science Center. Tom earned a master's degree in molecular microbiology and immunology from the Bloomberg School of Public Health at Johns Hopkins University, and is an amateur photographer.