(Lars Plougmann/Flickr)
Your child has been in the hospital and it's discharge day. It's a chaotic scene: You're trying to take care of him and maybe his little sister who keeps running down the hall, while completing hospital paperwork and packing your bags.
You're finally out the door, in your car, kids strapped in and … what? 
You've just lost contact with the medical professionals who took care of your son. What was it they said to do at home again?
Perhaps you try phoning but can't get through to your doctor. Or you try to email through the hospital's secure system, but can't put your hands on the password. The doctors hope you remember to pick up your son's meds.
Vinny Chiang, a physician at Children's Hospital Boston, came up with a simple idea. Could day-after communication with patients be "pushed" — proactive and automated? Could it be texted?
Supported by a grant from the Innovation Acceleration Program at Children's, Chiang has a prototype that he's getting ready to test in one of the hospital's inpatient units. In addition to the usual discharge procedure and instructions, patients and/or parents would be texted three yes/no questions the next day.
The exchange might look something like this:
If parents (as hoped) text back "yes," "yes" and "no" in that order, they'd receive an automatic "thank you" response as above. Any other response would alert a nurse or hospitalist physician to call the family.
"When we would call patients after discharge, a lot of the information we collected was in paper notes, and it just kind of sat," Chiang told a recent Innovators Forum at the hospital. Texted replies, on the other hand, are trackable could provide valuable information about possible gaps in the discharge process, and maybe help streamline it.
Ultimately, though, the project's goal is to reduce "unplanned" medical visits attributable to poor follow-up care. Chiang and his team — hospitalist physician (and Vector blogger) Fabienne Bourgeois; Jayne Rogers, Nursing Director of Inpatient Medicine; and Kelly Dunn, Inpatient Medicine Discharge Nurse Practitioner — will monitor the number of subsequent urgent care visits, emergency department visits and readmissions, as well as patient satisfaction and the practical feasibility of text-based communications.
Simple as this may sound, forum attendees, representing all walks of life at the hospital, had plenty of questions. How would the text messages be tracked and logged? How would they integrate with the patient's medical record? Could patients' texted replies automatically be forwarded to their primary care provider? Could responses to question #1 link to actual pharmacy data?
In the case of a teen, would texts go to both patient and parent? Could texting go even further, and be used for patient education? Would providers be able to tell if patients were using that feature?
One audience member suggested Outpatient Surgery as a good place for a pilot – the incentive would be great, since surgeons cannot collect their fees if the patient is readmitted within 30 days. But another colleague was concerned about "phishing" – criminals posing as coming from the hospital, and seeking personal information. And also, what if patients don't answer the hospital's texts?
"There are still a number of issues that need to be worked out," Chiang acknowledges.
But he's confident that the final product will bridge what he calls the most important distance in medicine: the three feet between the clinician and the patient.
"I believe at Children's we do a truly great job when the patient is right in front of us, but this becomes much harder when the family heads home," Chiang says. "Hopefully, this tool will enhance communication and allow us to provide a feeling of intimate care even when the patient is home."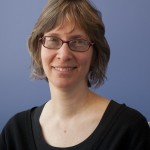 Nancy Fliesler, Vector's editor, has been senior science writer at Children's Hospital Boston since 2003, spotting innovation trends and covering virtually every clinical and laboratory research department in the hospital. She previously worked for the ABC News medical unit, helped produce science programs for K-8 teachers for the Harvard-Smithsonian Science Media Group, and worked on video productions for the Mental Illness Education Project. Prior to that, she was executive editor of Journal Watch, and also produced and directed the award-winning documentary Lifestyles of the Poor and Unknown. She holds a BA from Oberlin College (Phi Beta Kappa) and an MS in science and medical journalism from Boston University.