From the time he was 11, Robert Tasker knew he wanted to be a doctor. The son of a serviceman, he was drawn to battlefield surgery, evacuations and managing traumatic injuries. Instead, he ended up on a different kind of battlefield, where what's at stake are the highly vulnerable, still developing brains of infants and children – and where it's critical to be mobile and show up on time.
Tasker directs the Pediatric NeuroCritical Care program at Children's Hospital Boston, the first of its kind in the world. His goal is to protect brain function not only in children suffering direct head injury, but children undergoing major surgery, children with stroke, children hospitalized for critical illness, children on ventilators, children with nervous-system infections like meningitis and more.
Born in Hong Kong and raised throughout the globe,  Tasker attended medical school at the University of Cambridge and London. His first job, in 1982, was assisting David Harvey, the former pediatrician for the British royal family. In 1984, he landed at the Royal Brompton Hospital, where he watched cardiologists and cardiac surgeons doing miraculous things to save children's lives.
But he also saw complications, including brain and spinal injuries. "We were doing all of these things and keeping babies alive," Tasker recalls, "but we didn't have a clue as to what was going on in the brain."
In 1986, Tasker started a research fellowship to investigate treatments for babies with cerebral edema, a life-threatening acute swelling of the brain. The underlying condition, once a mystery, turned out to be Reye syndrome – a toxic reaction to aspirin that quickly waned with the advent of public health warnings against giving babies aspirin. "Within three months of me taking the job, the condition disappeared," he recounts.
Robert Tasker
Tasker then completed a two-year fellowship at Johns Hopkins University, becoming the first U.K. physician trained specifically in pediatric neurointensive care. He spent the next 20 years in London and Cambridge, directing the General Medical Intensive Care unit at London's Great Ormond Street Hospital for Children, then focusing on pediatric neurointensive care at the Cambridge University Foundation Trust Hospital, which has one of the top adult neurointensive care units in the world.
During the 1990s, Tasker witnessed the disappointment of physicians who tried to protect adults and children from brain damage after stroke, head injury and spinal cord injury using "neuroprotective" drugs. While the drugs were a failure, the effort to develop them helped launch the field of neurocritical care.
"The failed trials left in their wake new, specialized critical care teams, and a rethinking of human physiology," says Tasker.
Flying smarter
They also led to a more systematic, trial- and outcomes-driven approach. Tasker began thinking again about the battlefield, and the idea of making neurointensive care mobile. Rather than look for miracle drugs or high-tech interventions, he championed the idea of focusing on the "system" – doing the right things, at the right time, right in the trenches: at the bedside in the intensive care unit.
Tasker's collaborations with adult neurocritical care practitioners have led him to question why we don't provide the same kind of care for children. He advocates tracking critically ill children in real time, just as in adults, to understand the physiologic effects of their injury or illness, both early and late – and then using that information to protect their developing brains.
Much of this information was missed in the past. "We were flying blind, rather than flying smart," Tasker says. Indeed, some interventions long adopted as "standard"  — such as routinely hyperventilating children with brain injury – have proved not to help.
"We need to quantify what we're doing that might be harmful," Tasker told an audience at Children's earlier this year.
There are many questions to answer. As Tasker and colleagues implement a mobile assessment model at Children's, mirroring what's happening in the best adult neurocritical care units, those answers are within reach.
"The critical care unit is an 'acute physiology unit'," Tasker says. "We need to bring the laboratory to the bedside, gather as much information as possible, understand what is going on and react appropriately. This isn't just about technology, but also about translational thinking."
With tools such as bedside brain imaging, ultrasound evaluation of cerebral blood vessels and a new 3-Tesla MRI scanner next to the ICU, coupled with a dedicated team and an infrastructure of intensive neuromonitoring, Tasker hopes to preserve the brain function of every sick child in the hospital and track the effects well into adulthood.
"As we go live with this approach, there is not another pediatric unit on the planet that will match us," he says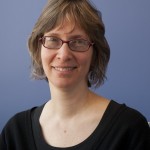 Nancy Fliesler, Vector's editor, has been senior science writer at Children's Hospital Boston since 2003, spotting innovation trends and covering virtually every clinical and laboratory research department in the hospital. She previously worked for the ABC News medical unit, helped produce science programs for K-8 teachers for the Harvard-Smithsonian Science Media Group, and worked on video productions for the Mental Illness Education Project. Prior to that, she was executive editor of Journal Watch, and also produced and directed the award-winning documentary Lifestyles of the Poor and Unknown. She holds a BA from Oberlin College (Phi Beta Kappa) and an MS in science and medical journalism from Boston University.