By Tom Ulrich
Twenty or thirty years ago, no one would have expected babies born extremely prematurely – between 23 and 25 weeks' gestation, considered the edge of viability – to survive long enough for their performance as elementary schoolers to be an issue.
But times change. Treatments like surfactants and prenatal steroids, along with improvements in ventilators and nutrition, have often enabled extremely premature children to survive.
The question is now one of long-term development. How will a child born at the edge of viability do – physically, cognitively, intellectually – in the long run? What impairments might he or she face, and how severe will they be?
The typical approach to answering those questions is to carry out a series of physical and cognitive assessments when the child is around 18 to 22 months old. But, as Mandy Brown Belfort, MD, MPH – one of Boston Children's Hospital's neonatologists – notes, assessments at that age may not tell you much about how the child will do later on.
"Two-year-olds' language is less well developed," Belfort says. "They haven't learned to read. They haven't reached the kinds of academic achievement that you can measure in older children."
What time is the right time to assess?
All of this suggests that assessing a child at a later age might be more predictive of what the future holds. "Developmentally, at school age, children have a lot more abilities and a lot more that we can measure that matter to their long term functioning," Belfort notes.
Supporting this view, Belfort recently wrote an editorial in JAMA Pediatrics remarking on a new meta-analysis by a team from the Ottawa Hospital in Ontario on the outcomes of 4- to 8-year-old children who had been born between 22 and 25 weeks' gestation.
As Belfort said in her editorial, the Ottawa study found that about 24 percent of the 441 children included in the study who had been born at 25 weeks had some kind of moderate to severe impairment at school age. Or as Belfort put it in her editorial:
"…76 percent were either mildly impaired or unimpaired, an estimate that is more favorable than previously published 18- to 22-month outcomes."
The impairment rates at school age for children born at 23 or 24 weeks' gestation were 40 and 28 percent, respectively: still not great, but better than the picture painted by assessments done in toddlers. At that age, studies find moderate to severe impairments in roughly 85 to 95 percent of children born at 23 weeks and 66 to 89 percent of those born at 24.
"It's a unique study because it reports school-age outcomes for a relatively large number of these tiny babies from multiple centers," Belfort says. Her comments underscore the fact that because there are still so few babies born so young that survive that long, for studies like the Ottawa study to work data needs to be averaged across several hospitals in order to draw any kind of meaningful picture.
Differing definitions of impairment
However, the process of merging data from multiple studies which gave the Ottawa team's approach more power, comes with its own limitations, particularly when it comes to understanding the finer details of level of impairment. For instance, centers often define cognitive and physical impairments differently – one center's severe cognitive impairment might be another's moderate. In addition, the Ottawa study groups children with different kinds of impairments together.
"In this analysis, 'moderate impairment' might involve hearing or vision or cognitive function or motor function or any combination of those things," Belfort explains. "Someone who was profoundly deaf but was otherwise intact was counted in the same category as someone who had severe cognitive impairments and cerebral palsy and was blind.
"Those are all considered 'severely impaired outcomes,'" she continues, "but as a parent or patient or physician, they are very different" when it comes to day-to-day living and care.
She also would like to have seen more data on the more subtle but still important impairments that can arise over time, such as executive function, text comprehension and organizational skills. "The more intellectual demand that is placed on a child, the more that you'll uncover," she says.
When asked whether the results of the Ottawa meta-analysis would cause her to change the advice she gives to the parents of extremely premature babies, even with its limitations, Belfort responds:
"The percentage of children with impairments at school age seems to be lower than the percentage who are considered impaired at 18 to 22 months. Some moderate-to-severe impairments may not persist into school age, and that's important [for doctors and parents] to know."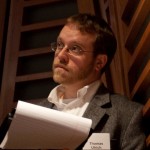 Tom Ulrich is a senior science writer in the Children's Hospital Boston Department of Public Affairs, covering laboratory and clinical research innovations across the hospital. Over the last ten years, Tom has parlayed his curiosity about science and passion for science writing and communications into a number of roles, including development writer at Dana-Farber Cancer Institute, marketing writer at AIR Worldwide, and editorial & account director at Feinstein Kean Healthcare. Most recently, he was the communications manager at Harvard Catalyst | The Harvard Clinical and Translational Science Center. Tom earned a master's degree in molecular microbiology and immunology from the Bloomberg School of Public Health at Johns Hopkins University, and is an amateur photographer.