Traffic lights have three colors and so does an infectious disease test made by AdvanDx.
The Woburn, Mass.-based molecular diagnostics developer launched its "Traffic Light PNA FISH" test in the European Union.
The tri-color test employs "fluorescence in situ hybridization" using "peptide nucleic acid" probes, hence PNA FISH, to simultaneously determine whether an individual's blood has the presence of gram-negative E. coli, K. pneumoniae and P. aeruginosa microbes, all of which are very dangerous if left unchecked.
PNA FISH provides results in less than 90 minutes, which is 24-48 hours sooner than conventional methods, according to a press release. Gram-negative bacteria, like methicillin-resistant Staphylococcus aureus, have been making headlines for their prevalence in bloodstream infections patients develop in hospitals after medical procedures. The GN pathogens have a certain cell structure that makes them less susceptible to to antibiotics; they must be identified quickly in order to improve outcomes for infected patients.
According to the New England Journal of Medicine, a Centers for Disease Control study estimated that 1.7 million hospital-acquired infections occurred in 2002 and almost 99,000 deaths resulted from or were associated with a hospital-acquired infection, while similar statistics have come out of European studies.
The Traffic Light is the latest product to come out of AdvanDx's molecular-based PNA FISH diagnostics platform. The Food & Drug Administration green-lighted the company's test for E. faecalis/OE in October 2009 and in December 2009 granted 510(k)s for AdvanDx's S. aureus PNA FISH and S. aureus/CNS, E. coli/P. aeruginosa and EK/P. aeruginosa tests.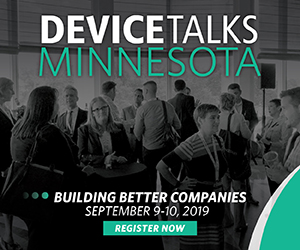 DeviceTalks Minnesota's leadership track is designed to provide attendees with insights on topics such as:
Navigating the path to market
Reimbursement
Winning regulatory approval
Corporate culture
Entering global markets
Leadership
Join industry leaders and medical device professionals at the most awaited medtech conference of the year, DeviceTalks Minnesota.

Use code SAVE15 to save 15%!

REGISTER NOW